Meet the Principal Investigator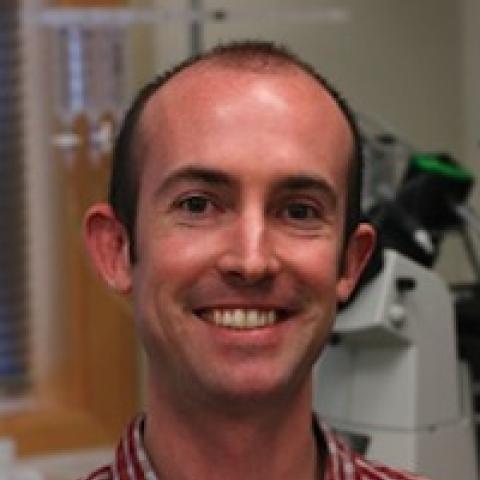 Ryan Hibbs, Ph.D.
Ryan Hibbs graduated from Whitman College, a small liberal arts college in Washington State, with a combined degree in Chemistry/Biochemistry. During doctoral research at the University of California, San Diego, he studied ligand specificity and conformational changes in an ion channel ligand binding domain under the supervision of Dr. Palmer Taylor (Department of Pharmacology). As a post-doctoral fellow, he pursued structural and functional studies of ligand-gated ion channels in the laboratory of Dr. Eric Gouaux (HHMI/Vollum Institute).  He joined the faculty in the Departments of Neuroscience (primary) and Biophysics (secondary) in 2012.
Research Interests
The Hibbs Lab is pursuing atomic-scale mechanisms of synaptic proteins, with a current focus on ligand-gated ion channel structure and function. We are fascinated by how these complex molecules respond to the binding of a small chemical neurotransmitter by triggering the opening of an intrinsic ion conduction pathway >50 Å away. This conformational conversion allows for diffusion-limited rates of ion flux and occurs on the millisecond timescale. We further seek to probe mechanisms of ion selectivity and allosteric modulation, with a long-term goal of better informing rational therapeutic design for neurological disorders and addiction. We employ a multidisciplinary approach encompassing molecular biology, protein biochemistry, pharmacology, x-ray crystallography, cryo-electron microscopy, and electrophysiology. Recent work from the lab has explored the structural biology of heteromeric nicotinic receptors and GABAA receptors both by crystallographic and cryo-EM approaches.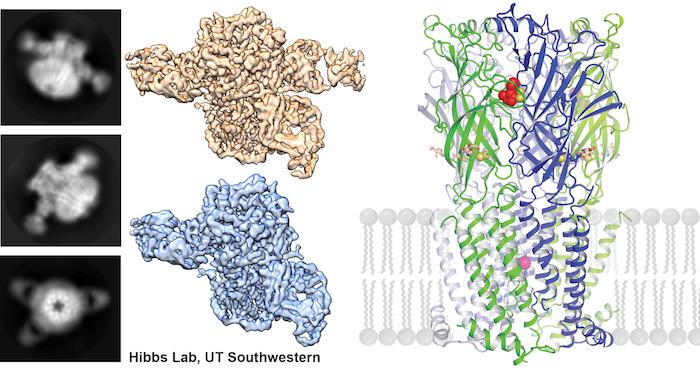 Featured Publications
Original Articles
Noviello CM, Kreye J, Teng J, Prüss H, Hibbs RE. "Structural mechanisms of GABAA receptor autoimmune encephalitis." Cell 2022: Jul 7;185(14):2469-2477.e13. PMID: 35803245.
Rahman MM, Basta T, Teng J, Lee M, Worrell BT, Stowell MHB, Hibbs RE. "Structural mechanism of muscle nicotinic receptor desensitization and block by curare." Nature Structural & Molecular Biology 2022 online 17 March. PMID: 35301478.
Noviello CM, Gharpure A, Mukhtasimova N, Cabuco R, Baxter L, Borek D, Sine SM, Hibbs RE. "Structure and gating mechanism of the α7 nicotinic acetylcholine receptor." Cell 2021: 184(8):2121-2134. PMID: 33735609.
Kim JJ, Gharpure A, Teng J, Zhuang Y, Howard RJ, Zhu S, Noviello CM, Walsh RM Jr, Lindahl E, Hibbs RE. "Shared structural mechanisms of general anaesthetics and benzodiazepines." Nature 2020: 585(7824):303-308. PMID: 32879488
Rahman MM, Teng J, Worrell BT, Noviello CM, Lee M, Karlin A, Stowell MHB, Hibbs RE. "Structure of the Native Muscle-type Nicotinic Receptor and Inhibition by Snake Venom Toxins." Neuron 2020: 106(6):952-962. PMID: 32275860.
Gharpure A, Teng J, Zhuang Y, Noviello CM, Walsh RM Jr, Cabuco R, Howard RJ, Zaveri N, Lindahl E, Hibbs RE. "Agonist selectivity and ion permeation in the α3β4 ganglionic nicotinic receptor." Neuron 2019: 104(3):501-511. PMID: 31488329.
Zhu S, Noviello CM, Teng J, Walsh RM Jr, Kim JJ and Hibbs RE. "Structure of a human synaptic GABAA receptor." Nature 2018: 559(7712):67-72. PMID: 29950725.
Walsh RM Jr, Roh SH, Gharpure A, Morales-Perez CL, Teng J, and Hibbs RE. "Structural principles of distinct assemblies of the human α4β2 nicotinic receptor." Nature 2018: 557(7704):261-265. PMID: 29720657.
Morales-Perez CL, Noviello CM and Hibbs RE. "X-ray structure of the human α4β2 nicotinic receptor." Nature 2016: 538(7625):411-415. PMID: 27698419.
Morales-Perez CL, Noviello CM and Hibbs RE. "Manipulation of subunit stoichiometry in membrane proteins." Structure 2016: 24(5):797-805. PMID: 27041595.
Book Chapter
Hibbs, RE, Zambon, A. "Nicotine and agents acting at the neuromuscular junction and autonomic ganglia." Goodman and Gilman's The Pharmacological Basis of Therapeutics. 13th Edition. Eds. Laurence Brunton, Randa Hilal-Dandan, and Bjorn Knollman. McGraw-Hill Publishing, 2018.
Reviews
Kim JJ, Hibbs RE. "Direct Structural Insights into GABAA Receptor Pharmacology." Trends Biochem Sci. 2021: Online Mar 2. PMID: 33674151.
Gharpure A, Noviello CM, Hibbs RE. "Progress in nicotinic receptor structural biology." Neuropharmacology 2020: 171:108086. PMID: 32272141.
Contact Us
6000 Harry Hines Blvd.
Dallas, TX 75390-9111
Phone: 214-648-1913
Lab: 214-648-1928