For compound screens, a pilot experiment can be done with an 8,000-compound diversity subset. This subset is an approximate representation of the chemical space in the larger 300,000+ UT Southwestern small-molecule commercial library.
Principal investigators are required to dedicate a scientist to work on the HTS screen. This person will work with the HTS scientific staff, who will operate the robotic liquid handlers and perform all operations involving the dispensing of compounds from library plates to experimental plates. The HTS staff scientists will also read the plates for each experimental run, analyze the data, and provide a report to the principal investigator and his/her scientist leading the screening effort.
Following the primary screen, the principal investigator can opt to cherry-pick hits for confirmation studies using the primary assay (three replicates per compound) and further characterization using secondary and counter screens. The PI is supplied with 4 μL of a 5 mM stock of each cherry-picked compound. This is enough for several plate-based assays in a limited dose-response format if desired.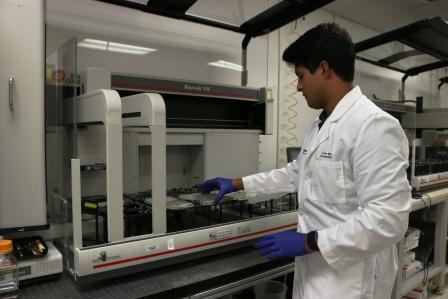 Screening scientist Irvin Garza prepares the Biomek FX for a screening experiment.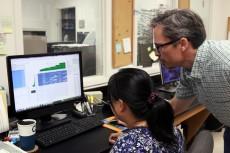 Drs. Bruce Posner, Resource Director, and Hong Chen, data analyst, review confirmation and counter screen data from a pilot screen.