Members of the Mason Lab were delighted to welcome Jasmine Jones and Aaron Chila as STARS interns in the PIRL this summer.
Jones, a high school science teacher in the Dallas Independent School District, focused on applications of photoacoustic imaging to breast cancer therapy, notably analyzing oxygenation in HSP2- and CycT-treated tumors.
Chila, a chemistry teacher at the Harlingen School of Health Professions, examined opportunities to image melatonin, particularly with respect to Alzheimer's disease.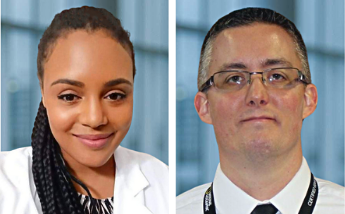 Jasmine Jones and Aaron Chila