WELCOME to the laboratory at the Center for Autism & Developmental Disabilities! Our research team conducts clinical studies of neurodevelopmental conditions including Autism Spectrum Disorder, Fragile X Syndrome, and Phelan-McDermid Syndrome.
To better understand brain mechanisms associated with these disorders, we use a variety of state-of-the-art neuroscience approaches including:
Tests of eye movements and neuropsychological functions are used to define motor and cognitive abilities.
Electroencephalography (EEG) is a method of recording and measuring electrical activity in different parts of the brain.
Motion capture technology is used to quantify movement coordination and balance while sitting, standing, and walking.
Functional magnetic resonance imaging (fMRI) is used to examine brain activity during rest and while performing simple tasks.
Diffusion tensor imaging (DTI) is an MRI approach used to examine white matter connections between different brain regions.
Research Support
This research is made possible by the generosity of the families who volunteer for our studies and
active support from Autism Speaks and the Phelan-McDermid Syndrome Foundation.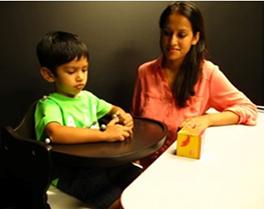 Researcher working with child