May 2023
New Ph.D. Candidates
Graduate students Banghao Zhou and Lixiang Guo successfully passed their Ph.D.-qualifying exams and are officially Ph.D. candidates. Congratulations Banghao and Lixiang!
April 2023
Abstracts Selected for Oral Presentation at AAPM 2023
Five abstracts from the BIRTLab team were selected for oral presentation at the 2023 American Association of Physicists in Medicine Annual Meeting. Dr. Xiangkun Xu will present "A novel fluorescence tomography-guided system for pre-clinical radiation research" in the Science Council Session: Innovation in Medical Physics. Lixiang Guo, Ph.D. student on the medical physics track, will present "An in vivo oxygen transport model for FLASH radiotherapy: the impact of physiological conditions" in the Early Career Investigator Symposium.
March 2023
Xiangkun Xu, Ph.D., Promoted to Research Scientist
Xiangkun Xu, Ph.D., was promoted to research scientist where he will assist Dr. Wang in instructing junior members and managing lab equipment.
August 2022
Publication: Biomedical Optics Express
Z. Deng, X. Xu, I. Iordachita, H. Dehghani, B. Zhang, M. Lim, J. W. Wong, And K. K.-H. Wang. "Mobile bioluminescence tomography-guided system for pre-clinical radiotherapy research."
Read the paper
May 2022
SPIE Publication
Drs. Ken Wang, Xiangkun Xu, and Zijian Deng, in collaboration with Dr. Hamid Dehghani from the University of Birmingham, applied a novel optical tomography algorithm to in vivo glioblastoma and pancreatic tumor models. The research shows that quantitative bioluminescence tomography (QBLT) is possible without the need for any prior knowledge of optical parameters, paving the way toward quantitative molecular imaging of exogenous and indigenous tumor functionality.
Read the paper
May 2022
Zijian Deng, Ph.D., Awarded 2022 AAPM Research Seed Funding Grant
Zijian Deng, Ph.D., was one of four recipients of the 2022 AAPM Research Seed Funding Grant, for his research topic of "Ultra-sensitive single-pixel bioluminescence tomography for in vivo cell tracking."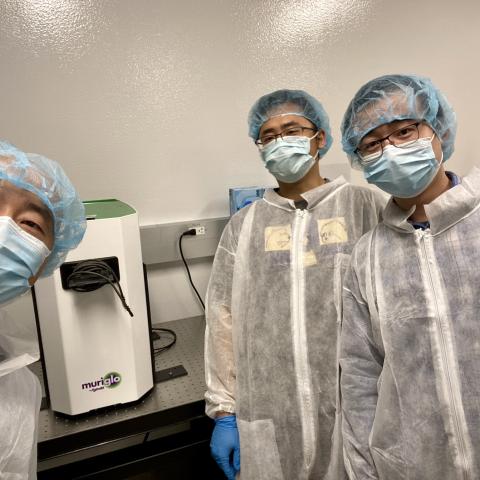 November 2021
Bioluminescence Tomography System Ready for In Vivo Study
After a few months of work, we finally got MuriGlo ready and moved to UT Southwestern's irradiator room. We hope more groups can benefit from our technology in optical tomography-guided irradiation to advance cancer treatment development!
September 2021
Zijian Deng, Ph.D., Promoted to Instructor
Zijian Deng, Ph.D., was promoted to instructor. In addition to independent research, Dr. Deng will help Dr. Wang oversee group activities and support the BIRTLab team.
August 2021
Publication: International Journal of Radiation Oncology*Biology*Physics
X. Xu, Z. Deng, H. Dehghani, I. Iordachita, M. Lim, J. W. Wong, K. K.-H. Wang. "Quantitative Bioluminescence Tomography-guided Conformal Irradiation for Pre-clinical Radiation Research." Int J Radiat Oncol Biol Phys 2021.
Read the publication
July 2021
BIRTLab Members Contribute to New Book
The chapter "Quantitative Bioluminescence Tomography for In Vivo Volumetric-Guided Radiotherapy," contributed by BIRTLab members, was selected to be part of the book "Biomedical Engineering Technologies: Volume 2 (Methods in Molecular Biology 2394)."
See the book
March 2021
Dr. Xiangkun Xu Awarded Spring Conference Travel Award
Dr. Xiangkun Xu was awarded the 2021 Spring Conference Travel Award by the UT Southwestern Postdoctoral Association. Congratulations Dr. Xu!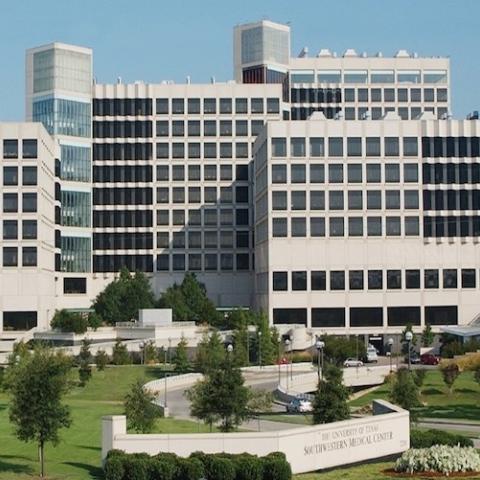 October 2020
BIRTLab Moves to UT Southwestern
BIRTLab moved from Johns Hopkins University, Baltimore, to UT Southwestern Medical Center, Dallas.