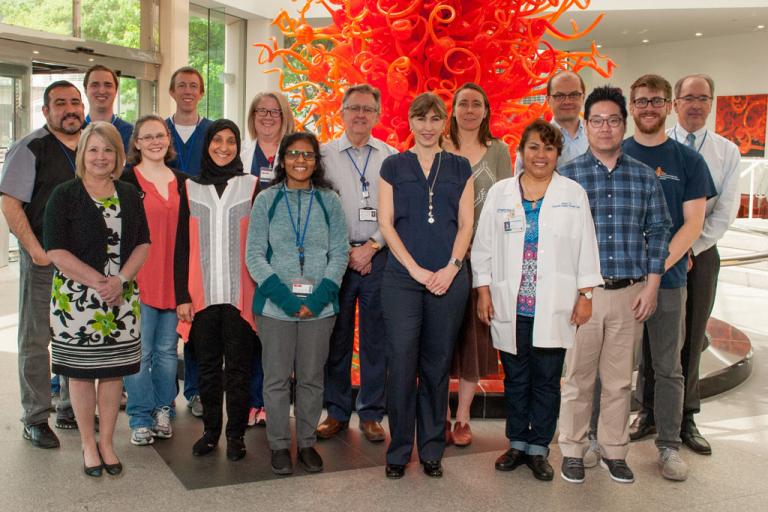 Members of the Advanced Cardiovascular Imaging Laboratory
Barbara Haley, MD
Co-Principal Investigator
Aneela Afzal, MSc
Research Study Coordinator
Research
Effect of Cardiotoxic Anticancer Chemotherapy on the Metabolism of [1-13C]Pyruvate in Cardiac Mitochondria (HP Cardiotox)
Inclusion criteria
Breast cancer tissue diagnosis
Doxorubicin neoadjuvant treatment plan
Neoadjuvant patients
Above the age of 18, F/M
Read and speak English / Spanish
Willing to use contraception
Exclusion criteria
Alternative chemotherapy or
Left-sided radiotherapy
Any other investigational agent
Uncontrolled illness
Macro metastatic disease
Pregnant
Diabetic
Sickle cell disease
Hemolytic anemia
Goal
To detect early changes in the mitochondrial metabolism, in situ, as a marker for asymptomatic, subclinical, doxorubicin-induced cardiotoxicity.
Brief Summary
The anthracycline, doxorubicin, was first introduced to the world of medicine in the 1960s. Today, it continues to be an effective antineoplastic drug that is widely used as a drug of choice for chemotherapy. It is, however, known to present a risk of cardiotoxicity - even at relatively low cumulative doses. Even though the incidence of subclinical cardiotoxicity is not known, it is clear that doxorubicin carries a potential risk of causing late effects in cancer survivors. This drug introduces systemic toxicity that may contribute to cardiac metabolic stress - the main cardiotoxic mechanism, however, involves the cardiac mitochondria.
Protocol snapshot
On the day of the metabolic cardiac MR scan an IV line will be inserted
A bolus of oral glucose will be administered to prepare the heart for the metabolic study
A metabolic cardiac MR study will follow for 60 min, including IV tracer administration and carbon13 detection
Total duration: 4 hours
Separate conventional cardiac MRI sessions may be completed in certain participants
Close monitoring of participant's well-being before, during, and after the scan with EKG, blood pressure, heart rate, and temperature
Less than 5 oz of blood will be drawn through the IV, at preset intervals throughout the study duration
Time frame: 4 years
Visit duration: 4 hours
Total MRI scan time: 60 minutes
Using a U.S. FDA-regulated metabolic
substrate: Yes - Hyperpolarized 13C-pyruvate
Study phase: Early Phase 1
Diagnosis: Breast cancer
Ages Eligible for study: 18 +
Sexes eligible for study: All
Accepts healthy volunteers: No
Areas of recruitment: UTSW, Parkland Hospital
Study arms
Formal Study
Metabolic study visit 1: baseline prior to beginning standard-of-care, neoadjuvant, doxorubicin
Metabolic study visit 2: after doxorubicin completion

Feasibility Study
Metabolic study visit 1: after doxorubicin completion
Metabolic study visit 2: at 1 to 6 months after the first scan following medical therapy

Metabolic Feasibility Study
A separate conventional cardiac MRI scan is offered as an option for the study participants. This can be done on the same day as the study visit, or another day. It will take approximately 1 ½ hour to complete, where the participant will be injected with a standard contrast agent – Gadolinium.
The Standard of Care treatment will not be affected in any way by this study; the participants will not be charged for any research-related activity; they will receive $100/scan, lunch/scan, and valet parking validation/scan.
Funding Source
Cancer Prevention Research Institute of Texas
Contact Us
Please contact our team if planning neoadjuvant Adriamycin (doxorubicin), for enrollment in the HP Cardiotox Study.
Research Study Coordinator:
Aneela Afzal
(214) 645-6269