Meet the Principal Investigator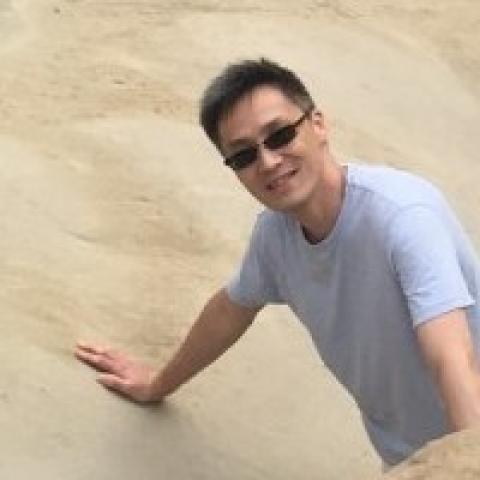 Chuo Chen Ph.D.
Chuo Chen was born and grew up in Taipei, Taiwan ROC. Fascinated by the beautiful structure of vitamin B12 that Professor Tse-Lok Ho put on the blackboard in his first organic chemistry class, he decided to pursue research in chemistry as a career. He was then introduced to real-world chemical research by Professor Tien-Yau Luh during his last year at National Taiwan University. After finishing the two-year mandatory military service, he went to Harvard to study natural product synthesis with Professor Matthew Shair and got his first taste of research in chemical biology. He then went to learn how to apply his knowledge in chemistry to study biology from Professor Stuart Schreiber. He began his independent career at UT Southwestern Medical Center in 2004 and is now a Professor in the Department of Biochemistry and a Southwestern Medical Foundation Scholar in Biomedical Research. He is also a co-founder of ImmuneSensor Therapeutics.

Chuo has diverse interests in chemical and biological research. He exploited the power of photochemistry and radical chemistry in his early work to solve problems associated with the synthesis of complex natural products. Examples include applying photo-Nazarov cyclization to nakiterpiosin synthesis and mangenese-mediated oxidative radical cyclization to massadine synthesis. He is now seeking to build an enzyme-based platform for catalyst development.

Chuo's research is also heavily influenced by the new biology discovered in his colleagues' labs at UT Southwestern. He worked with Professor Lawrence Lum (now at Loxo Oncology) to develop the first small-molecule Wnt inhibitors. He also worked with Professor James (Zhijian) Chen to elucidate the molecular structure of cGAMP. He is now learning various tools in molecular and cell biology to study the Wnt and cGAS-STING signaling pathways.

In his spare time, Chuo likes to cook and bake with his wife and his children. He also tries to learn R and Python to prove that he is not an old dog yet. However, he is not a good coder and has never been a successful gardener.
Lab Alumni
Xiao Wang
2006–2012
B.S., Peking University
Advisor: Prof. Jiaxi Xu
Current: Senior Scientist, Merck
Chen Zhu
2013
Ph.D., Shanghai Institute of Organic Chemistry
Advisor: Prof. Guo-Qiang Lin
Current: Professor, Suzhou University
Chengwei Zhang
2015–2016
Ph.D. Shanghai Institute of Organic Chemistry
Advisor: Prof. Chaozhong Li
Fei Tan
2019–2020
Ph.D. Sichuan University
Advisor: Prof. Xiaoming Feng
Heping Shi
2010–2017
Ph.D., Shanghai Institute of Organic Chemistry
Advisor: Prof. Biao Jiang
Jen-Chieh Hsieh
2008
Ph.D., National Tsing Hua University
Advisor: Prof. Chien-Hong Cheng
Jianming Lu
2005–2011
Ph.D., Nankai University
Advisor: Prof. Jin-Pei Cheng
Jibao Xia
2010–2015
Ph.D. Shanghai Institute of Organic Chemistry
Advisor: Prof. Shu-Li You
Current: Professor, Lanzhou Institute of Chemical Physics
Jing Li
2013–2015
Ph.D., Peking University Health Science Center
Advisor: Prof. Yanxing Jia
Lei Han
2016–2019
Ph.D., Shanghai Institute of Organic Chemistry
Advisor: Prof. Biao Jiang
Lin You
2016 - 2021
Ph.D., Peking University
Advisor: Prof. Zhen Yang
Current: Research Investigator, Incyte
Qi Wei
2015–2018
Ph.D. Shanghai Institute of Organic Chemistry
Advisor: Prof. Shengming Ma
Qiaoling Wang
2006–2011
Ph.D., Lanzhou University
Advisor: Prof. Xuegong She
Saptarshi De
2013–2014
Ph.D., Wayne State University
Advisor: Prof. Jim Rigby
Current: Principal Investigator, DuPont
Shuanhu Gao
2007–2010
Ph.D., Lanzhou University
Advisor: Prof. Yong-Qiang Tu
Current: Professor, Department of Chemistry, East China Normal University
Xianghui Tan
2004–2008
Ph.D., University of Science and Technology of China
Advisor: Prof. Qing-Xiang Guo
Current: Chief Technology Officer, ChemPacific Corporation
Xiaolei Wang
2011–2015
Ph.D. Lanzhou University
Advisor: Prof. Xuegong She
Current: Professor, Department of Chemistry, Lanzhou University
Yuanwei Dai
2015–2017
Ph.D., Shanghai Institute of Organic Chemistry
Advisor: Prof. Biao Yu
Yuyong Ma
2013–2015
Ph.D., Shanghai Institute of Organic Chemistry
Advisor: Prof. Biao Yu
Zhiqiang Ma
2007–2015
Ph.D., Shanghai Institute of Organic Chemistry
Advisor: Prof. Hongbin Zhai
Current: Professor, School of Chemistry and Chemical Engineering, South China University of Technology
Benjamin Kernen
2015
Summer Intern from University of North Texas
Julian Maceren
2019
Amgen Scholar from Rochester University
Khoa Nguyen
2012
QP-SURF student from the University of Texas at Arlington
Lauren Garofalo
2010
QP-SURF student from Baylor University
Matthew Bedard
2015
Summer Intern from Vanderbilt University
Nyle Sharif
2019
QP-SURF student from Northeastern University
Phillip Steininger
2008
QP-SURF student from Washington University
Rae McFarlin
2009
QP-SURF student from Texas Woman's University
Vivian Shaw
2006–2007
Summer Intern from the University of Pennsylvania
Adrian Bustos
2011
STARS student from Talented and Gifted School at Townview
Bao (Manny) Nguyen
2010
STARS student from Haltom High School
Brian Chhor
2008
STARS student from Yvonne A. Ewell Townview Magnet Center, The School for the Talented and Gifted
John La
2012
STARS student from the School of Science and Engineering Magnet
Karen De La Fuenta
2009
STARS student from the Science and Engineering Magnet at Townview