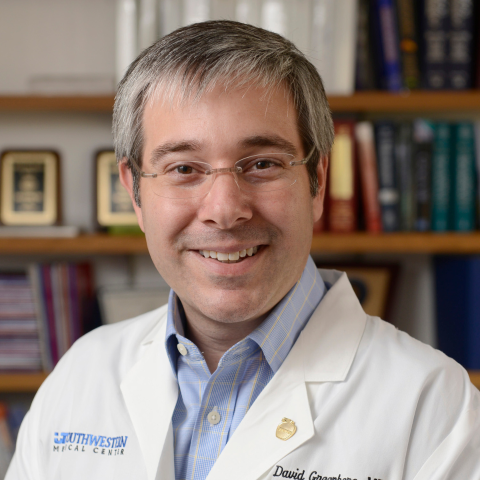 David Greenberg, M.D.
Professor
Department of Internal Medicine – Infectious Disease
University of Texas Southwestern Medical Center
Email
UT Southwestern Profile
 
Dr. Greenberg completed his medical degree and residency at the Baylor College of Medicine, followed by fellowship training in infectious disease at the National Institutes of Health. His research interests stem from his time at the NIH, where he developed a passion for host-pathogen interactions, especially in the context of rare genetic diseases and immunocompromised hosts. While an ID fellow, Dr. Greenberg was part of the team that took care of chronic granulomatous disease (CGD) patient who had the first documented human infection with Granulibacter bethesdensis; in a series of papers, they fulfilled Koch's postulates for proving that the newly discovered G. bethesdensis was pathogenic.
In 2010, Dr. Greenberg started his lab at UT Southwestern where he has been involved in the development of novel antibacterial therapeutics for multidrug-resistant bacteria. For these studies, the lab utilizes peptide-conjugated phosphorodiamidate morpholino oligomers (PMOs) to block mRNA and prevent the translation of target genes. We are currently studying these in Escherichia coli, Acinetobacter baumannii, Pseudomonas aeruginosa, and Burkholderia cepacia complex. Additionally, we also study neutrophil (PMN) function in the setting of different hosts. We are currently performing a study assessing neutrophil function in patients with cystic fibrosis.
Dr. Greenberg is also the director of the Microbiology course in the medical school, directly teaching M.D. and Ph.D. students, as well as having an active role in curriculum and faculty development. As a clinically active Doctor on Infectious Diseases (ID) consultation services here at UTSW, he is up-to-date on the current cases and concerns in the field while overseeing and teaching fellows and residents.
Outside of work, Dr. Greenberg spends time with his wife, two children, and dog, and enjoys travel, culinary experiments, and the fermentative properties of microbes.