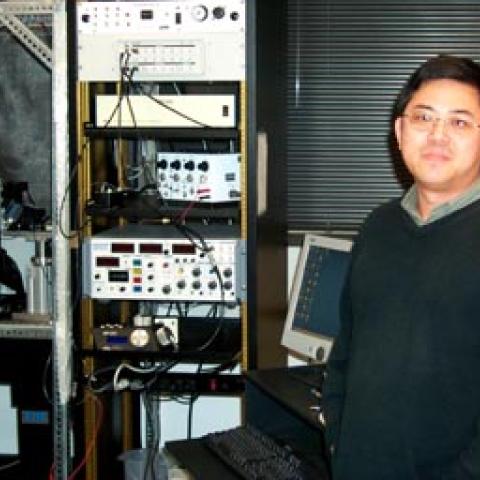 Weichun Lin, Ph.D.
Associate Professor
Effie Marie Cain Scholar in Medical Research
Department of Neuroscience
Phone: 214-648-5935
Fax: 214-648-1801
Email
Dr. Lin obtained his Ph.D. in Neurobiology from the State University of New York at Albany in 1996. He then moved to the Salk Institute at La Jolla, Calif., as a postdoctoral fellow and research associate. He joined the faculty at the Department of Neuroscience in 2003.
Postdoctoral Fellows
Past Lab Members
Hongqiao (Harry) Li, Ph.D.
Currently at the Mayo Clinic
Daniel Padgett
Currently at UC San Diego
Research Description
The human brain contains over 100 billion neurons inter-connected through specialized cell-cell contacts termed synapses. Synaptic connections, estimated to be around 100 trillion in number, form intricate networks that enable neurons to send and receive information and generate complex behavior. The goal of our research is to understand how neurons establish synaptic connections during development, and how these connections are maintained throughout adulthood. Toward this goal, we are currently focusing on the following two areas of research.
Patterning and Formation of Synapses
Formation of synapses lays the foundation for neural circuits. We study the vertebrate neuromuscular junction (NMJ) to understand the cellular and molecular mechanisms of synaptogenesis. At the developing NMJ, the nerve terminals progressively accumulate synaptic proteins and form synapses within a discrete area often localized to the central region of the muscle. One of the questions that we are particularly interested in is identifying signaling molecules that determine the spatial pattern of synaptic organization of the NMJ. We are investigating several mutant mice in which the NMJ pattern is disrupted due to specific mutations. This will allow us to define the roles of specific molecules in determining the patterning and formation of synapses.
Molecular Mechanisms of Neurodegeneration
Impairments of synapses are implicated in the pathogeneses of various neurodegenerative diseases, including Alzheimer's disease and amyotrophic lateral sclerosis (Lou Gehrig's disease). Indeed, synaptic dysfunction may be the earliest sign of neurodegeneration, but little is known about why normal synapses may degenerate. We have generated a transgenic mouse model in which synapses form normally during development, but become progressively dysfunctional and eventually degenerate. We are studying these transgenic mice to gain a better understanding of the mechanisms underlying synaptic dysfunction and degeneration.