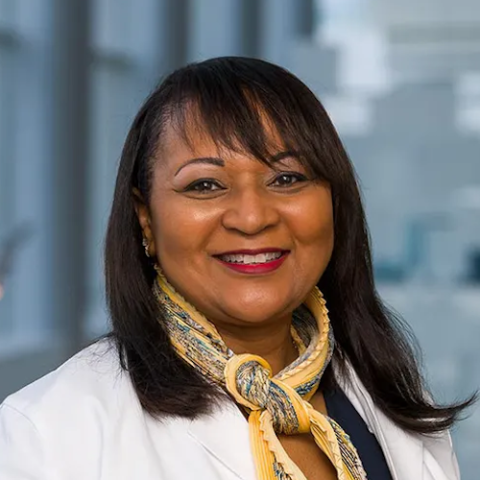 Shawna D. Nesbitt M.D., M.S.
Associate Professor, Internal Medicine
Medical Director, Parkland Hypertension Clinic
Vice President, Chief Institutional Opportunity Officer
Phone: 214-645-2800
Fax: 214-645-2808
Research Interests
Shawna D. (Smith) Nesbitt, M.D., M.S., serves as the medical director of the Parkland Hypertension Clinic. Her research interests include clinical trials and epidemiology of hypertension and cardiovascular risk. Her area of research is hypertension in African-Americans, insulin resistance, and hyperlipidemia. Dr. Nesbitt is the national coordinator for the TROPHY Study (Trial of Prevention Hypertension), a 4-year trial which includes more than 71 sites and more than 800 patients. She is funded by the National Institutes of Health to study the relationship of oxidative stress and genetics in the development of hypertension.
Dr. Nesbitt is Associate Dean of Minority Student Affairs at UT Southwestern. She is the secretary treasurer for the International Society of Hypertension in Blacks (ISHIB), where she also serves as chairperson of the "Children Are Our Messengers" Initiative.
She also serves as director of Cohort Follow-up for the Dallas Heart Study, funded by the Donald Reynolds Foundation. Dr. Nesbitt is also a Fellow of the American Heart Association and the Council for High Blood Pressure Research. She serves as an Advisory Panel member for the Red Dress Campaign, sponsored by the National Institutes of Health.
Research Projects
Trial of Preventing Hypertension (TROPHY)
Primary Investigator: Stevo Julius, M.D.
National Study Coordinator: Shawna D. Nesbitt, M.D., M.S.
Sponsor: AstraZeneca Pharmaceutical Inc.
A prospective randomized placebo-controlled trial of monotherapy with an angiotensin receptor blocker (ARB) in 809 subjects with high-normal blood pressure at 71 U.S. sites.
Dallas Heart Study: A Random Population Sample for Preventing ASHD (Project I)
Cohort Follow-up Coordinator, Project 1: Shawna D. Nesbitt, M.D., M.S.
Sponsor: Donald W. Reynolds Foundation
Project 1: To demonstrate that an academic medical center with its surrounding community, can be transformed into a powerful partnership for transitional research leading to the prevention of atherosclerotic heart disease.
IMPACT Study
Principal Investigator: Shawna D. Nesbitt M.D., M.S.
Sponsor: Investigator Initiated Proposal funded by Pfizer Pharmaceuticals
This is a prospective randomized, open-label study designed to evaluate the effect of combination once-daily therapy for hypertension and lipids with home blood-pressure assessment on the control of hypertension in a clinic population of indigent, complicated hypertensive patients. 
This study will enroll patients from Parkland Hospital to a protocol which includes the use of home and ambulatory blood pressure monitoring to improve blood pressure control.