The long-term goals of the Nwariaku Laboratory are to understand the cellular mechanisms that regulate endothelial dysfunction during inflammatory and neoplastic conditions with a hope to use this knowledge in designing novel therapeutic agents. We are particularly interested in the role of intracellular oxidants as mediators of cytokine and growth factor signaling, endothelial-dependent regulation of tumor proliferation and angiogenesis in endocrine tumors, including thyroid cancer. Understanding these mechanisms will facilitate the development of targeted therapy and reliable biomarkers for recurrent and metastatic thyroid cancer.
Our strategies include the use of biochemical inhibitors, chemotherapeutic agents, siRNA, and mutated plasmids to interrogate known signaling pathways. Other techniques include trans-monolayer electrical resistance, and genetic profiling. We use an orthotopic tumor model of thyroid cancer to evaluate tumor and host angiogenic activity.
We anticipate these studies will provide important information that will be helpful for designing clinical studies for advanced thyroid cancer. The Nwariaku Laboratory is also interested in developing novel models of drug delivery using nanotechnology.
Active Grants
NIH - 1 RO1 GM067674-01A1
Injury-Induced Endothelial Dysfunction
The effects of junctional protein phosphorylation on endothelial signaling and dysfunction.
Robert Wood Johnson Minority Medical Faculty Development Award
The role of GTP-Binding Proteins in Endothelial Signaling
The effect of TNF on rac and Cdc42 on cell-cell adhesion and endothelial signaling.
American Heart Association
Novel Roles for Junctional Proteins
Vascular endothelial cadherin and vascular endothelial growth factor signaling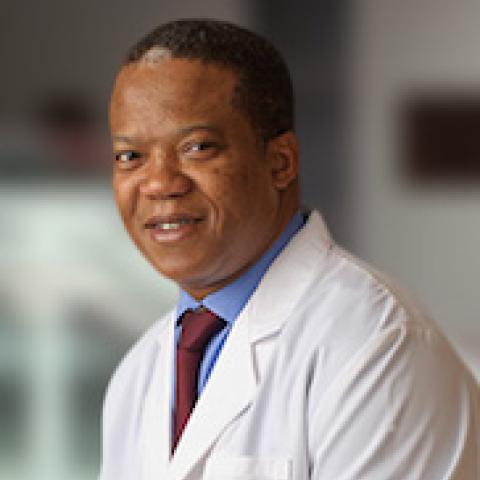 Ohwofiemu Nwariaku, M.D.
Associate Professor, Surgery
Associate Dean, Global Health
Malcolm O. Perry, M.D. Professorship in Surgery
Contact Us
Youxue Wang, M.D.
5323 Harry Hines Blvd
Dallas, TX 75390
Phone: 214-648-6710