Our Research
We study the signals that control B lymphocyte development, activation, and differentiation into antibody-secreting plasma cells, both normally and in autoimmune diseases such as lupus. We hope that by defining these events, we can reveal new approaches to modulate antibody responses therapeutically.
Research in the Satterthwaite Lab focuses on understanding the signals that control B lymphocyte development and function. B cells are critical for normal immune responses. Each B cell is equipped with a receptor that allows it to bind to a unique antigen. When B cells encounter the antigen for which they are specific, they become activated and differentiate into plasma cells. These plasma cells secrete antibodies that can bind to the antigen and target it for destruction.
During an infection, those B cells whose antigen receptors recognize the invading pathogen will produce pathogen-specific antibodies that help clear the infection. Because antibodies can cause damage, B cells that recognize one's self are normally either eliminated or inactivated in a process called B cell tolerance. However, in autoimmune diseases such as lupus, these tolerance mechanisms are impaired and autoantibodies are produced. These can cause inflammation and tissue damage and lead to organ failure.
Thus, understanding the molecular mechanisms that control B cell tolerance, activation and differentiation into antibody secreting plasma cells has important implications for both vaccine design and the development of therapies for autoimmune disease. 
Several molecules with known inhibitory function in other cell types are expressed in B cells, but their roles in B cell development and activation are poorly understood. These include inhibitory receptors as well as regulators and targets of the PI3K pathway. We are using both gain and loss-of-function approaches to assess the roles of such molecules in B cell development, the induction of B cell tolerance, and B cell activation and differentiation.
B cell responses to antigen are controlled by a balance of activating and inhibitory signals. One overarching goal of our research is to define the consequences of shifting this balance for normal and autoimmune antibody responses.
For example, we have found that both the accumulation of plasma cells and the lupus-like autoimmune disease that occur in the absence of the inhibitory signaling molecule Lyn depend on the activating tyrosine kinase Btk. We are now defining molecules that lie at the convergence of these activating and inhibitory pathways.
In collaboration with Lee Ann Garrett-Sinha, Ph.D., of the University of Buffalo, we have found that the transcription factor Ets1, an inhibitor of plasma cell differentiation, is one such target. When the balance of activating and inhibitory signaling is shifted and Ets1 levels are either elevated or decreased, reduced antibody levels or autoimmunity ensue respectively.
Ongoing studies involve defining the molecular mechanisms by which activating and inhibitory signaling pathways converge on Ets1, and determining whether autoimmune disease can be prevented by increasing Ets1 expression in B cells.
Meet the Principal Investigator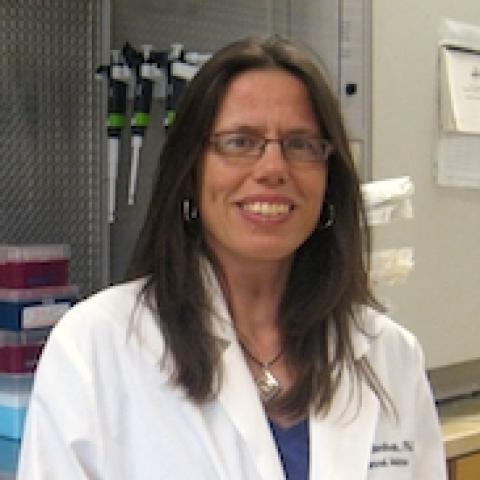 Anne Satterthwaite, Ph.D.
Dr. Satterthwaite grew up in Connecticut and received her undergraduate degree from the Massachusetts Institute of Technology in 1987. In 1993, she obtained a Ph.D. in Cell and Developmental Biology from Harvard Medical School and subsequently pursued postdoctoral training in Dr. Owen Witte's lab at UCLA. She joined the UT Southwestern faculty in 2000, where she is now an Associate Professor in the Department of Internal Medicine, with a secondary appointment in the Department of Immunology.
She is a Southwestern Medical Foundation Scholar in Biomedical Research and holds the Peggy Chavellier Professorship for Arthritis Research and Treatment. A member of the Immunology Graduate Program, she loves to share her passion for all things B cell-related with students in both the classroom and the lab. Outside of work, she enjoys spending time with her husband and two sons and traveling.
Contact Us
Anne Satterthwaite, Ph.D.
Principal Investigator
Office Phone: 214-648-3172
Email
Kristina Ottens, M.S.
Lab Manager/Research Assistant I
Lab Phone: 214-648-9537
Email
Mailing Address
UT Southwestern Medical Center
5323 Harry Hines Blvd
Dallas, TX  75390-8884
Physical Address
Green Research Building (Y Buildling)
South Campus
Room Y8.328
5323 Harry Hines Blvd
Dallas, TX  75390-8884