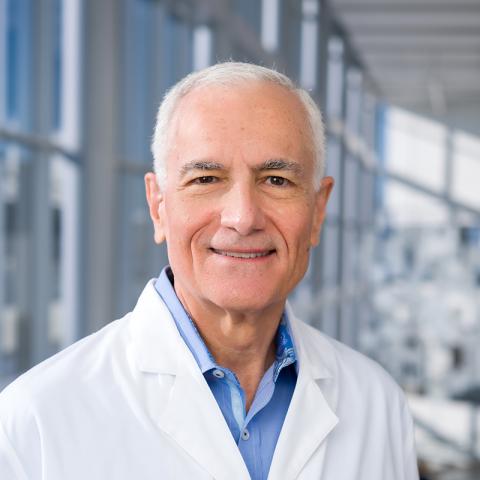 Robert Toto, M.D.
Professor of Internal Medicine and Clinical Sciences
Associate Dean for Translational Science and Education
Medical Director, Kidney/Liver/Pancreas, Clements University Hospital
Research Interests
Prevention of progression of renal diseases
Diagnosis and management of lipid disorders in renal disease
Hypertensive nephrosclerosis
Angiotensin II converting enzyme inhibitors and angiotensin II receptor blockers in renal disease
Impact of dialysis delivery on morbidity and mortality in patients on hemodialysis
Cost-effectiveness of prevention and treatment of renal disease
The Hemodialysis Study
Our current projects include The Hemodialysis Study, an NIH-sponsored multicenter clinical trial designed to determine whether high (Kt/V 1.6) versus standard (Kt/V 1.20) and/or high versus low flux dialyzers afford improved survival benefit in patients on maintenance hemodialysis. This is a long-term trial in which mortality is the primary outcome variable for which the study is powered. Our FDA-sponsored Phase I trials of a-MSH is a series of studies evaluating the safety and tolerability of a-MSH in normal controls, subjects with ESRD on maintenance hemodialysis, and patients with acute renal failure. In addition, this is a pilot study of the efficacy of a-MSH to improve GFR in patients with non-oliguric ischemic acute renal failure. Also, methodology for fast GFR measurement is underway in our laboratory. This project includes both normals and subjects with the spectrum of GFR ranging from mildly abnormal to end-stage renal disease.
African American Study of Kidney Disease and Hypertension (AASK)
A disproportionate number of African-Americans suffer from renal insufficiency and end-stage renal disease (ESRD) as sequelae of essential hypertension. The (AASK) is a multicenter prospective randomized double-blinded controlled trial to determine the effects of blood pressure control and specific antihypertensive regimens on the progression of hypertensive nephrosclerosis. The AASK trial is the first large-scale, long-term trial to determine whether the deterioration in renal function and the subsequent risk of ESRD can be reduced in high-risk patients with hypertensive nephrosclerosis.
The AASK study also offers a unique opportunity to examine the relationships between lipid metabolism, renal impairment, and cardiovascular complications in African-Americans. We are currently assembling an ancillary proposal on lipid management and progression of renal disease as part of AASK, a study that will be performed in collaboration with Dr. Helen Hobbs.
Our research group is also taking a similar approach to intervene in the treatment of progressive renal disease in patients with diabetes mellitus. We are part of an international multicenter group to study the renal-sparing effects of an angiotensin receptor antagonist in diabetic nephropathy. The goal of these ongoing research projects will be to decrease the rate of growth of the population of patients with ESRD due to hypertension and diabetes.
Blood Pressure Management in Dialysis
When patients require renal replacement therapy, it is unclear how their blood pressure should be managed. Nearly half of the deaths of patients on dialysis occur from cardiovascular complications. Some of these illnesses might be preventable with improved control of blood pressure, especially since the average pre-dialysis blood pressure in the USRDS database is ~150/88. Cross-sectional observations do not provide clear guidelines for management, since either low or dramatically elevated pre-dialysis blood pressures carry a high mortality risk. To determine the ideal blood pressure treatment, our research group, in collaboration with the Division of Cardiology, is performing a pilot prospective trial on cardiovascular outcomes in patients starting on a hemodialysis program. In this trial, new ESRD patients are being randomized to either usual or low pre-dialysis blood pressure goals. The primary endpoints include clinical events and echocardiographic features about cardiovascular function. Our clinical environment gives us a unique advantage to perform this and similar studies.

We have access to the UT Southwestern hemodialysis database that includes more than 300 dialysis patients, we average nearly 20 patients/month who initiate ESRD therapy from our practice, and we have formed a productive collaboration with the Cardiology division. The goal of this line of investigation is to improve the duration and quality of life of patients maintained on hemodialysis.
Featured Publications
Potassium handling with dual Renin-Angiotensin system inhibition in diabetic nephropathy.
Van Buren PN, Adams-Huet B, Nguyen M, Molina C, Toto RD Clin J Am Soc Nephrol 2014 Feb 9 2 295-301
Bardoxolone Methyl in Type 2 Diabetes and Stage 4 Chronic Kidney Disease.
de Zeeuw D, Akizawa T, Audhya P, Bakris GL, Chin M, Christ-Schmidt H, Goldsberry A, Houser M, Krauth M, Heerspink HJ, McMurray JJ, Meyer CJ, Parving HH, Remuzzi G, Toto RD, Vaziri ND, Wanner C, Wittes J, Wrolstad D, Chertow GM N. Engl. J. Med. 2013 Nov
The pathogenesis and management of hypertension in diabetic kidney disease.
Van Buren PN, Toto RD Med. Clin. North Am. 2013 Jan 97 1 31-51
Current update in the management of diabetic nephropathy.
Van Buren PN, Toto R Curr Diabetes Rev 2013 Jan 9 1 62-77
A trial of 2 strategies to reduce nocturnal blood pressure in blacks with chronic kidney disease.
Rahman M, Greene T, Phillips RA, Agodoa LY, Bakris GL, Charleston J, Contreras G, Gabbai F, Hiremath L, Jamerson K, Kendrick C, Kusek JW, Lash JP, Lea J, Miller ER, Rostand S, Toto R, Wang X, Wright JT, Appel LJ Hypertension 2013 Jan 61 1 82-8
Recommendations of the national football league physician society task force on the use of toradol(®) ketorolac in the national football league.
Matava M, Brater DC, Gritter N, Heyer R, Rollins D, Schlegel T, Toto R, Yates A Sports Health 2012 Sep 4 5 377-83
Probing the mechanisms of intradialytic hypertension: a pilot study targeting endothelial cell dysfunction.
Inrig JK, Van Buren P, Kim C, Vongpatanasin W, Povsic TJ, Toto R Clin J Am Soc Nephrol 2012 Aug 7 8 1300-9
Bardoxolone methyl and kidney function in CKD with type 2 diabetes.
Pergola PE, Raskin P, Toto RD, Meyer CJ, Huff JW, Grossman EB, Krauth M, Ruiz S, Audhya P, Christ-Schmidt H, Wittes J, Warnock DG N. Engl. J. Med. 2011 Jul 365 4 327-36
Intensive blood-pressure control in hypertensive chronic kidney disease.
Appel LJ, Wright JT, Greene T, Agodoa LY, Astor BC, Bakris GL, Cleveland WH, Charleston J, Contreras G, Faulkner ML, Gabbai FB, Gassman JJ, Hebert LA, Jamerson KA, Kopple JD, Kusek JW, Lash JP, Lea JP, Lewis JB, Lipkowitz MS, Massry SG, Miller ER, Norris K, Phillips RA, Pogue VA, Randall OS, Rostand SG, Smogorzewski MJ, Toto RD, Wang X N. Engl. J. Med. 2010 Sep 363 10 918-29
Contact Information
5323 Harry Hines Blvd.
Dallas, TX 75390
Phone: (214) 648-2600
Fax: (214) 648-7867