The wild and fascinating world
Virus Infections, Host Metabolism, and Tumorigenesis
Our mission is to study these complex interactions in upper aerodigestive tract, using a combination of multiple model systems including primary cultured human nasal and oral epithelial cells, mouse models, and nasal mucosal biopsy specimens from clinical patients, coupled with state-of-the-art omics.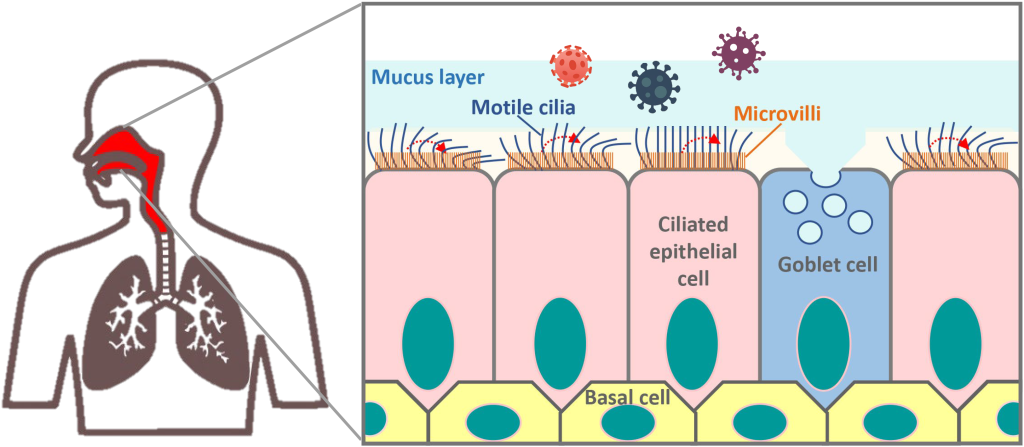 Our Research
Our research is driven by a desire to understand
how respiratory viruses subvert the nasal and oral epithelia for cellular entry, replication, and egress

how metabolic disorders interfere with the antiviral immunity during viral infections

how virus infections induce tumorigenesis in upper aerodigestive tract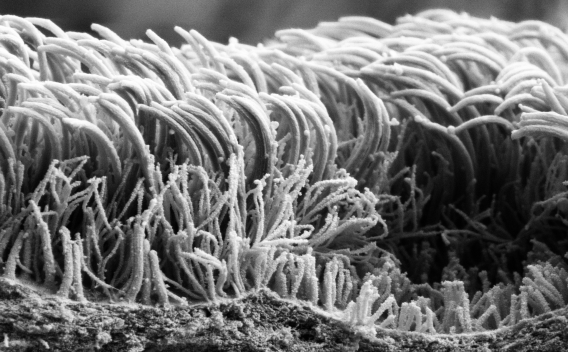 Publications
Wu CT*, Lidsky PV*, Xiao Y*, Cheng R*, Lee IT, Nakayama T, Jiang S, He W, Demeter J, Knight MG, Turn RE, Rojas-Hernandez LS, Ye C, Chiem K, Shon J, Martinez-Sobrido L, Bertozzi CR, Nolan GP, Nayak JV, Milla C, Andino R, Jackson PK. SARS-CoV-2 replication in airway epithelia requires motile cilia and microvillar reprogramming. Cell. 2023 Jan 5;186(1):112-130.e20.
Yang J, Xiao Y, Lidsky PV, Wu CT, Bonser LR, Garcia-Knight MA, Chung CI, Li X, Nakayama T, Lee IT, Nayak JV, Ghias K, Erle DJ, Jackson PK, Andino R, Shu X. Fluorogenic reporter enables identification of compounds that inhibit SARS-CoV-2. Nat Microbiol. 2023 Jan;8(1):121-134.
Xiao Y, Lidsky PV, Shirogane Y, Aviner R, Wu CT, Li W, Catching BA, Talbot D, Doitsh G, Nayak A, Ernst J, Brodsky E, Brodsky L, Su W, Rousseau E, Capponi S, Bianco S, Nakamura R, Frydman J, Jackson PK, Gekko CE, Andino R. A defective viral genome strategy elicits broad protective immunity against respiratory viruses. Cell. 2021 Dec 9;184(25):6037-6051.e14.
Nakayama T*, Lee IT*, Jiang S*, Matter MS*, Yan CH*, Overdevest JB*, Wu CT*, Goltsev Y, Shih KC, Liao CK, Zhu B, Lidsky PV, Xiao Y, Zarabanda D, Yang A, Easwaran M, Schürch CM, Chu P, Chen H, Stalder AK, Mcllwain DR, Borchard NA, Gall PA, Dholakia SS, Xu L, Tai CJ, Yeh TH, Duran JM, Mertz KD, Patel ZM, Haslbauer JD, Jackson PK, Menter T, Andino R, Canoll PD, Deconde AS, Hwang PH, Tzankov A, Nolan GP, Nayak JV. Determinants of SARS-CoV-2 entry and replication in airway mucosal tissue and susceptibility in smokers. Cell Rep Med. 2021 Oct 19;2(10):100421.
Li X, Lidsky P, Xiao Y, Wu CT, Garcia Knight M, Yang J, Nakayama T, Nayak JV, Jackson PK, Andino R, Shu X. Ethacridine inhibits SARS-CoV-2 by inactivating viral particles. PLoS Pathog. 2021 Sep 3;17(9):e1009898.
Wu CT, Hilgendorf KI, Bevacqua RJ, Hang Y, Demeter J, Kim SK, Jackson PK. Discovery of ciliary G protein-coupled receptors regulating pancreatic islet insulin and glucagon secretion. Genes Dev. 2021 Sep 1;35(17-18):1243-1255.
Wu CT*, Lidsky PV*, Xiao Y*, Lee IT*, Cheng R*, Nakayama T*, Jiang S*, Demeter J, Bevacqua RJ, Chang CA, Whitener RL, Stalder AK, Zhu B, Chen H, Goltsev Y, Tzankov A, Nayak JV, Nolan GP, Matter MS, Andino R, Jackson PK. SARS-CoV-2 infects human pancreatic beta cells and elicits beta cell impairment. Cell Metab. 2021 Aug 3;33(8):1565-1576.e5.
Lee IT*, Nakayama T*, Wu CT*, Goltsev Y*, Jiang S*, Gall PA, Liao CK, Shih LC, Schurch CM, McIlwain DR, Chu P, Borchard NA, Zarabanda D, Dholakia SS, Yang A, Kim D, Chen H, Kanie T, Lin CD, Tsai MH, Phillips KM, Kim R, Overdevest JB, Tyler MA, Yan CH, Lin CF, Lin YT, Bau DT, Tsay GJ, Patel ZM, Tsou YA, Tzankov A, Matter MS, Tai C J, Yeh TH, Hwang PH, Nolan GP, Nayak JV, Jackson PK. ACE2 localizes to the respiratory cilia and is not increased by ACE inhibitors or ARBs. Nat Commun. 2020 Oct 28;11(1):5453.
Wu CT, Chen HY, Tang TK. Myosin-Va is required for preciliary vesicle transportation to the mother centriole during ciliogenesis. Nat Cell Biol. 2018 Feb;20(2):175-185.
Chen HY, Wu CT, Tang CJC, Lin YN, Wang WJ, Tang TK. Human microcephaly protein RTTN interacts with STIL and is required to build full-length centrioles. Nat Commun. 2017 Aug 15;8(1):247.
Lin YN*, Wu CT*, Lin YC, Hsu WB, Tang CJ, Chang CW, Tang T.K. (2013) CEP120 interacts with CPAP and positively regulates centriole elongation. J Cell Biol. 2013 Jul 22;202(2):211-9. 
Lin YC, Chang CW, Tang CJ, Hsu WB, Lin YN, Chou EJ, Wu CT, Tang TK. Human microcephaly protein CEP135 directly interacts with hSAS‐6 and is required for centriole assembly. EMBO J. 2013 Apr 17;32(8):1141-54.
Wu CT, Lin TY, Hsu HY, Sheu F, Ho CM, Chen EI. Ling Zhi-8 mediates p53-dependent growth arrest of lung cancer cells proliferation via the ribosomal protein S7-MDM2-p53 pathway. Carcinogenesis. 2011 Dec;32(12):1890-6.
Tang CJ, Lin SY, Hsu WB, Lin YN, Wu CT, Lin YC, Chang CW, Wu KS, Tang TK. The human microcephaly protein STIL interacts with CPAP and is required for procentriole formation. EMBO J. 2011 Oct 21;30(23):4790-804.
(* Denotes First Author Status)
Contact Us
Email address: chien-ting.wu@utsouthwestern.edu
Office Number: 214-648-4836
Lab Number: 214-648-4841
Mailing Address
NL4. 108A, 5323 Harry Hines Blvd. Dallas, TX 75390
Physical Address
NL4. 110A, 6000 Harry Hines Blvd. Dallas, TX 75390