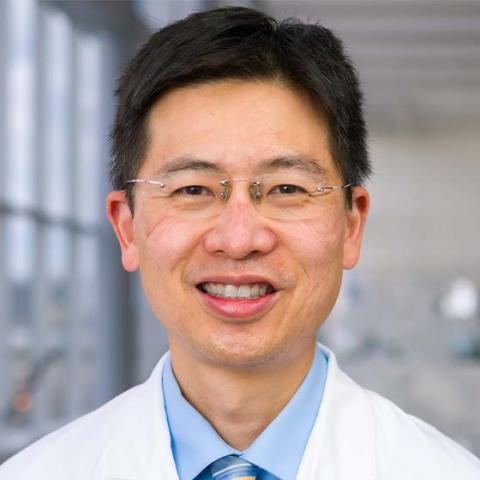 Benjamin Chong, M.D.
After graduating with a M.D. at Johns Hopkins School of Medicine in 2004, Dr. Benjamin Chong completed dermatology residency training at Henry Ford Hospital in Detroit, MI, where he was selected Chief Resident. In 2008, Dr. Chong joined the Department of Dermatology at University of Texas Southwestern Medical Center in Dallas, TX. He completed a Masters in Clinical Science degree in 2012 as a Clinical Research Scholar. He is currently the director of the University of Texas Southwestern Autoimmune Skin Disease Clinic and the dermatology clinic director of Parkland Hospital and Health System. As an associate professor, Dr. Chong is the current recipient of the Anita C. Gilliam, MD, PhD, Professorship in Dermatology. He has served on multiple leadership positions in various dermatology societies, including Chair of the American Academy of Dermatology Access to Dermatologic Care Committee, Rheumatologic Dermatology Society Director-at-Large, and Society of Investigative Dermatology Committee of Scientific Programs. He has been honored with several awards including University of Texas Southwestern Department of Dermatology Teaching Award, D Magazine's Best Doctors in Dallas, and the Lupus Foundation of America Lone Star Chapter Gala Honoree.
Dr. Chong conducts clinical and translational research in cutaneous lupus erythematosus, an autoimmune and photosensitive skin condition in patients with systemic lupus erythematosus. He is the principal investigator of the University of Texas Southwestern Cutaneous Lupus Registry which contains clinical and historical data, and blood and skin samples from more than 350 patients. The registry serves as a foundation for multiple clinical and translational research studies, which include developing outcome measures for clinical trials in cutaneous lupus, investigating serum biomarkers that correlate with disease progression, and elucidating the pathophysiology of cutaneous lupus erythematosus. As a previous recipient of NIH K23 grant, Dr. Chong is the principal investigator of a NIH R01 grant aiming to establish outcome measures for future clinical trials in cutaneous lupus. He has also received research funding from the Dermatology Foundation, American College of Rheumatology and Arthritis Foundation, and Rheumatology Research Foundation. He has served on multiple grant review committees for the National Institutes of Health, Congressionally Directed Medical Research Programs, Rheumatology Research Foundation, and Lupus Research Alliance. He has been an invited lecturer on cutaneous lupus and other autoimmune diseases for various national and international meetings. Finally, Dr. Chong has authored a total of 83 peer-reviewed journal manuscripts, and six book chapters.