de Gracia Lux et al., RSC Adv., 2017,7, 48561
Objective
Acoustic droplet vaporization (ADV) of superheated perfluorocarbon (PFC) nanodroplets (NDs) has a great potential as an extravascular ultrasound contrast agent that may facilitate ultrasound-based therapeutic applications, yet these agents are metastable and difficult to manufacture with high yield.
Superheated perfluorocarbon emulsions were made with improved yield, stability, and shelf life compared to current ADV agents, which may help to hasten translation of such agents for a broad range of phase transition-assisted ultrasound theranostic platforms.

Nanodroplets (NDs)
Extravascular imaging and drug delivery
Longer circulation + accumulation
Less susceptible to US destruction
Detection / delivery only upon vaporization
Microbubbles (MBs)
Efficient US contrast agents – highly echogenic
Limited to vascular space
Short circulation time limits interaction with receptors of interest
Methods
Emulsions of decafluorobutane (DFB, BP = -1.7 °C) and octafluoropropane (OFP, BP = -36.7 °C) obtained through direct high pressure homogenization were characterized using tunable resistive pulse sensing (TRPS) and dynamic light scattering (DLS) and their acoustic response investigated with a Acuson Sequoia S512 ultrasound system with 15L8 transducer.
/labs/de-gracia-lux/assets/research1e.png
Results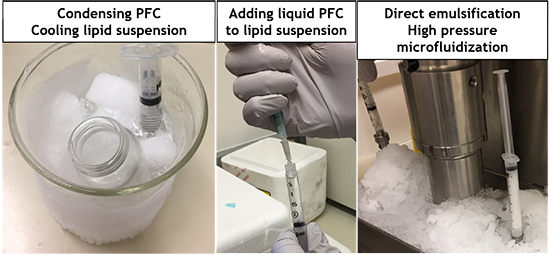 Experimental setup to produce stable superheated NDs
Schematic representation of the US phantom experiment (left) and photographs of the pipet bulb before and after US exposure (right)
Targeted but not control NDs bound to EpCAM positive SK-BR-3 cells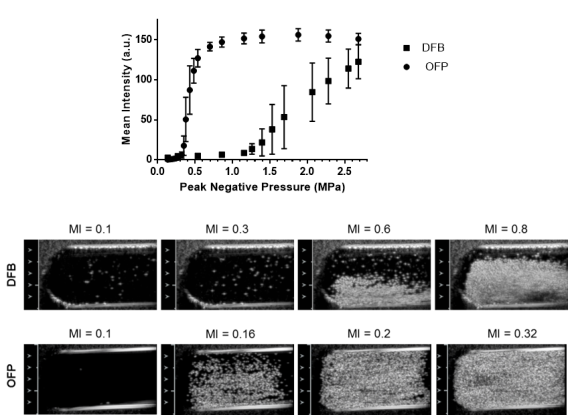 Representative US images and mean image intensities