Acute kidney injury (AKI) is a common health problem with high morbidity and mortality. Some patients will progress to chronic kidney disease (CKD) even though they have full clinical "recovery." 
CKD is increasingly recognized as a global public health problem with a high morbidity and mortality of cardiovascular diseases, disturbed mineral metabolism, hyperparathyroidism, and bone disease.
In the United States, CDK has a prevalence of 12 percent and a life risk of 60 percent. The incidence and prevalence of end-stage renal disease (ESRD) are expected to continue to rise steadily in the future. But to date, there are few specific and efficient therapies for people with AKI or CKD.
To test the therapeutic effects of several novel strategies such as Klotho on kidney diseases, we are performing following projects by using in vitro cell culture model and in vivo animal models.
Hopefully our studies will offer novel insight into the cellular and molecular mechanisms of AKI progression to CKD and cardiovascular diseases (vascular calcification and uremic cardiomyopathy) development in CKD, and set up a solid basis for preclinical and clinical study in the future.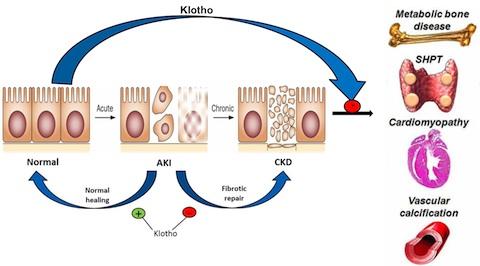 Proposed effects of Klotho on AKI, AKI progression to CKD, and complications in CKD