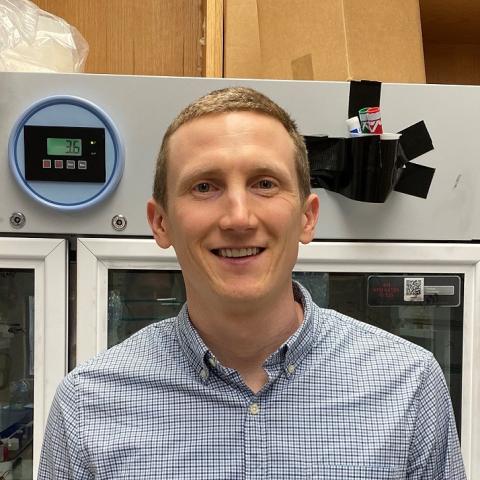 Glen Liszczak, Ph.D.
Assistant Professor of Biochemistry
Virginia Murchison Linthicum Scholar in Medical Research
UT Southwestern Medical Center
Glen Liszczak is an Assistant Professor in the Department of Biochemistry at the University of Texas Southwestern Medical Center.  He received his B.S. in Chemistry and Biology from Ramapo College of New Jersey and his Ph.D. in Chemistry from the University of Pennsylvania at the Wistar Institute under the supervision of Dr. Ronen Marmorstein.  As a graduate student, Glen used X-ray crystallography and other biochemical and biophysical tools to determine the molecular basis for catalysis and substrate specificity exhibited by protein-modifying enzymes.  Such enzymes included lysine and amino-terminal acetyltransferases that represent potential therapeutic targets in a variety of diseases.
In 2013, Glen joined the laboratory of Professor Tom Muir as a postdoctoral fellow at Princeton University where he employed a wide array of chemical biology techniques to delineate epigenetic mechanisms and their misregulation in cancer.  During his postdoctoral studies, Glen combined protein semi-synthesis with high-throughput biochemistry and cellular biology to study proteins that interact with the genome and regulate gene expression.  These efforts led to the discovery of regulatory mechanisms that modulate ADP-ribosylation of chromatin by PARP enzymes during the DNA damage response.  He also developed methods to deliver synthetic entities to specific genomic loci in live cells by using bioorthogonal reactive handles to append small molecules and modified peptides to a programmable DNA binding protein (nuclease-deficient Cas9).
Throughout his career, Glen has been the recipient of numerous awards for his research, including the Dr. Monica H.M. Shander Memorial Fellowship, a Ruth L. Kirschstein National Research Service Award, a Cancer Prevention Research Institute of Texas (CPRIT) Recruitment of First-Time, Tenure-Track Faculty Member Award, and a UT System Rising STARs Award.  In 2018, Glen joined the faculty at UTSW as an Endowed Scholar.  His lab integrates chemical and biological approaches to study nuclear protein post-translational modifications and their effect on transcription regulation and genome integrity.  Ultimately, his group seeks to understand how aberrant protein modification activities contribute to genetic diseases such as cancer.