A molecular biologist and a country musician might seem an odd pair, but Dr. Eric Olson and Willie Nelson share musical and scientific interests that have benefitted both fields.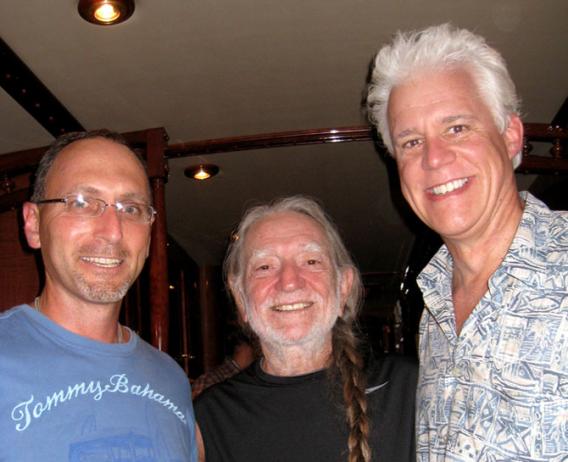 Willie Nelson, honorary member of the Olson lab, with Dr. Jay Schneider, Associate Director of the Hamon Center for Regenerative Science and Medicine, and Dr. Eric Olson.
Dr. Olson, who plays several instruments, grew up in a musical family: his mother and grandmother both taught piano and music theory at the Eastman School of Music. One of his musical idols is Willie Nelson, who he describes as "a national treasure and the greatest icon of Texas."
He met Mr. Nelson and his wife, Annie, when the couple brought their sons to UT Southwestern for a checkup. Dr. Kern Wildenthal, then president of Southwestern, arranged for Dr. Olson to meet them over lunch – the start of a longterm collaboration.
In 2005, Mr. Nelson held a benefit concert in support of stem-cell research, raising $250,000 to create the Annie and Willie Nelson Professorship in Stem Cell Research, which Dr. Olson holds. Dr. Olson has also been a guest on Mr. Nelson's tour bus and Central Texas ranch. "Being connected to one of my all-time heroes has really been a thrill."