Meet the Principal Investigator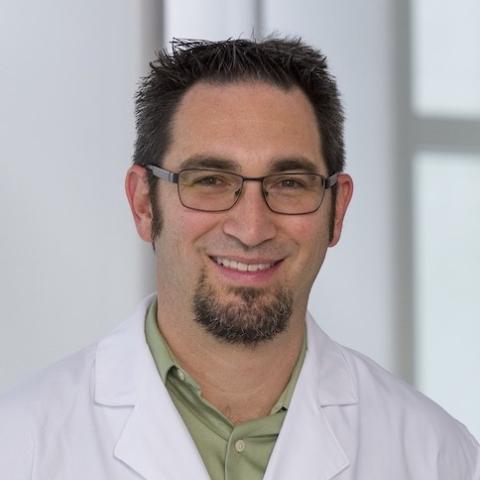 Todd Aguilera, M.D., Ph.D.
Todd Aguilera, M.D., Ph.D., is a physician-scientist trained as a radiation oncologist with expertise in molecular engineering, molecular imaging, the tumor microenvironment, and tumor immunology.
Dr. Aguilera completed the Medical Scientist Training Program in 2011 at the University of California San Diego. He obtained his Ph.D. in 2009 in Dr. Roger Y. Tsien's laboratory, which received the 2008 Nobel Prize in Chemistry. His Ph.D. work focused on engineering and validating activatable peptide-based probes to target the tumor microenvironment. Molecules that stemmed from his work are currently being tested in clinical trials for fluorescence-guided surgery of breast cancer.
After an internal medicine internship in San Diego, he joined the Radiation Oncology Residency program at Stanford University. He worked with Dr. Amato Giaccia as a resident and postdoctoral fellow studying factors in the tumor microenvironment that promote ​immunologic tolerance and developing therapeutic approaches to improve immunotherapy responses in solid tumors. More specifically, he is interested in intrinsic factors that prevent/suppress the anti-tumor immune response after radiation and how these factors can be reversed. 
Dr. Aguilera was recruited to the Department of Radiation Oncology at UT Southwestern to establish his research group which will continue to investigate the immune microenvironment and engineer approaches to target cells and molecules that lead to immune privilege. He treats radiation oncology patients with gastrointestinal cancers, is developing laboratory projects in pancreatic cancer, and aims to establish collaborative projects with clinicians and researchers.
Outside of the lab, Dr. Aguilera enjoys spending time snowboarding, surfing (when he can escape back to California for a few days), brewing beer, and spending time with his family. His wife is also on faculty at UTSW in the Division of Neonatology. He has a young son and daughter whom he looks forward to taking to the mountains and ocean.
Current Lab Members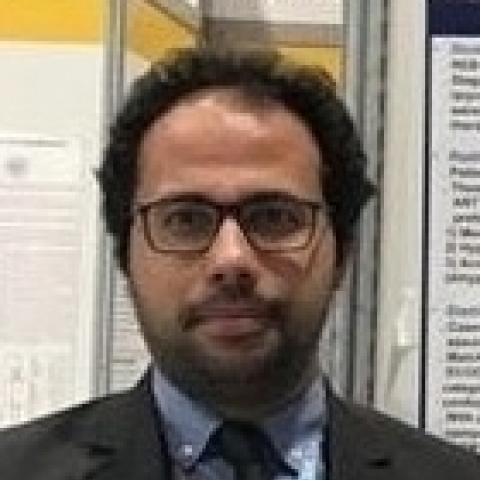 Ahmed Elamir, M.D.
Postdoctoral Fellow
Dr. Elamir received his M.D. from Cairo University, Egypt. Following that, in 2015 he completed a medical radiation oncology residency and a master's degree (M.Sc.) in clinical oncology with his thesis focused on locally advanced pancreatic cancer outcomes. In early 2018, Dr. Elamir received the AMAAC grant, which funded him to get both proton and pancreatic cancer radiation therapy experience at the University of Heidelberg (DKFZ) Germany.
From August 2018 until February 2021, Dr. Elamir completed a combined gastrointestinal and thoracic clinical research fellowship in the radiation medicine program at Princess Margaret Cancer Centre/University Health Network, University of Toronto, Canada. During his gastrointestinal fellowship, Dr. Elamir gained further clinical and research experiences in pancreatic cancer radiation therapy. Clinically, Dr. Elamir was extensively involved in radiation therapy planning and the treatment of pancreatic cancer, mesothelioma radiation therapy, and lung SBRT. Dr. Elamir was also exposed to the early MR-linac experience at Princess Margaret Cancer Centre. In parallel, Dr. Elamir pursued pancreatic cancer research, exploited a mouse-derived xenograft model to assess re-oxygenation during SBRT in pancreatic cancer, and developed a risk score model to predict loco-regional following upfront surgical resection of pancreatic cancer.
With his background focused on pancreatic cancer radiation therapy, tumor micro-environment, and imaging/hypoxia biomarkers, Dr. Elamir joined the Aguilera Lab with hopes to enhance a collaboration between Princess Margaret Cancer Centre and UT Southwestern; review the UTSW SBRT experience in pancreatic cancer, while helping to build a robust clinical-genomic-imaging pancreatic cancer database; and gain transitional lab skills related to tumor micro-environment; and, ultimately, to develop his career as a pancreatic cancer clinician scientist in radiation oncology.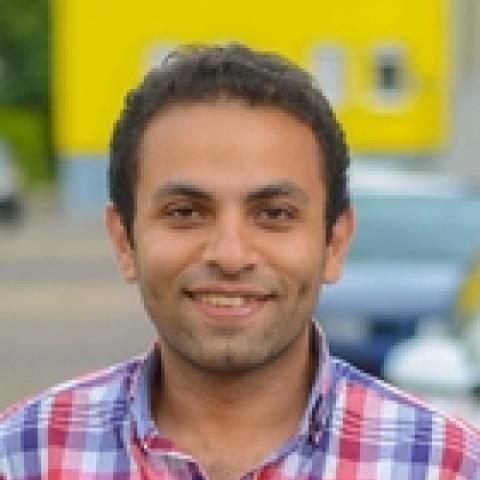 Eslam Elghonaimy, Ph.D.
Postdoctoral Researcher
Dr. Elghonaimy received his Ph.D. in cell biology and genetics from Cairo University, Egypt in 2016. Following that, he was a postdoctoral fellow at Klinik für Frauenheilkunde und Geburtshilfe, Universitätsklinikum, Münster, Germany. In late 2018, he joined the Aguilera Lab as a postdoc where his interests are centered on the interaction between stromal, tumor, and immune cells that constitute the tumor microenvironment and how this relationship affects tumor initiation and progression.
Dr. Elghonaimy is also interested in sequencing, artificial intelligence technology, integrated computational science, and machine-learning with biological experiments. In addition to his post-doc work, he is a UT Southwestern BICF fellow, which falls under the Department of Bioinformatics and High-Performance Computing Center (BioHPC).
Katy Swancutt, DVM, Ph.D.
Postdoctoral Researcher
Dr. Swancutt completed her B.S. at California State University Long Beach where she was also a research assistant in a radiation chemistry laboratory. As an Arnold and Mabel Beckman Scholar, her work studying reaction kinetics of free radical molecules required frequent visits to user facilities at the Notre Dame Radiation Laboratory and Brookhaven National Labs to utilize linear and Van de Graff particle accelerators.
Subsequently, Dr. Swancutt completed her DVM and Ph.D. at the College of Veterinary Medicine Biomedical Sciences at Colorado State University where her dissertation work examined the impact of stereotactic radiation therapy on tumor microvasculature and hypoxic microenvironment and involved a clinical trial for client-owned dogs bearing soft tissue sarcomas. She pursued the small animal medicine track with additional electives in oncology, radiation oncology, laboratory animal medicine, surgery, shelter medicine, and exotic/zoo animal medicine.
As a postdoctoral fellow in Dr. Aguilera's lab, Dr. Swancutt cultivates mouse models of pancreatic, breast, and other cancers to study interactions between tumor cells and white blood cells throughout cancer progression and in response to treatment with radiation, chemotherapy, or immunotherapy.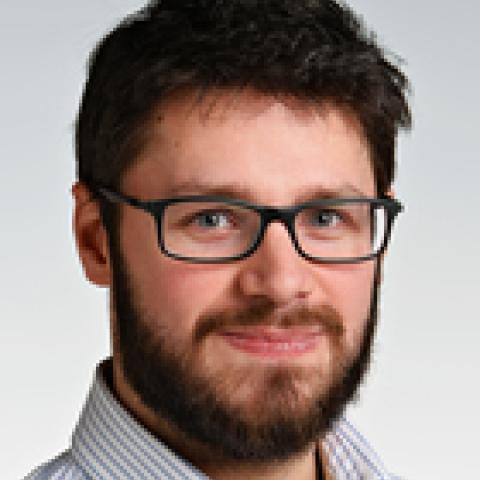 Sebastian Diegeler, Ph.D.
Postdoctoral Researcher
Dr. Diegeler received his M.Sc. in human and molecular biology at Saarland University, Germany, in 2014 and focused his thesis on radiobiological characterization of gastrointestinal cell lines. He was then awarded a SpaceLife Ph.D. scholarship at the German Aerospace Center (DLR) in Cologne, Germany, to investigate the role of transcription factor NF-kB in the radiation-induced bystander response. During his Ph.D. he was involved in the planning and execution of heavy ion exposure experiments at particle accelerator facilities in Germany (GSI), France (GANIL), and Japan (HIMAC). He also worked on other projects such as the establishment of an ex vivo assay for lymphocytic radiation sensitivity. His doctorate degree in radiation biology was earned from Saarland University in cooperation with DLR in 2020.
Dr. Diegeler joined the Aguilera Lab as a postdoctoral researcher in December 2020 where his interests are focused on cellular interactions of the tumor microenvironment with regard to radiation and immune therapy.
Cassandra Hamilton
Research Associate
Cassandra graduated from the University of Tulsa in 2013 with a B.S. in biology and a minor in fine art. Her undergraduate research efforts included the Bobwhite quail population studies on the Tall Grass Prairie, Neotropical epiphyte natural history and characterization, and population dynamics within Junco hyemalis. After graduation, she joined the UTSW lab of Nobel laureates Drs. Michael Brown and Joseph Goldstein, where she provided technical assistance for research on the cholesterol metabolism pathway and NPC1 disease.
Following her work in the Brown/Goldstein Lab, Cassandra took over the Human Genetics Core Lab at the Eugene McDermott Center for Human Growth and Development, providing campus-wide assistance to genetic research. During her time running the genetics core, Cassie was certified in phlebotomy by the American Medical Technologists and worked closely with PIs to obtain genomic DNA for their genetic studies as well as to maintain a biobank for future research.
Cassandra joined the Aguilera Lab in March 2021, and hopes to apply her background in genetics and classical molecular protocols with specialization in DNA, RNA, and protein isolation methods, as well as adaptive protocols for transmembrane protein isolations to en vivo and in vitro studies on the tumor microbiome.
Peter Leung
Medical Student
Peter received his B.A. in biological sciences from the University of Chicago. As an undergraduate, he worked as a research assistant in Dr. Jun Huang's laboratory investigating peptide-major histocompatibility complex interactions with T cell receptors using super-resolution microscopy.
After a year at the Navy Medical Research Center assisting with research preventing heterotopic ossification in amputees, Peter started medical school at UTSW in 2019 and joined Dr. Aguilera's Lab. He is interested in tumor microenvironment and immune system responses to various combinations of radiation and immunotherapies, as well as optimizing such treatments in targeting local and metastatic malignancies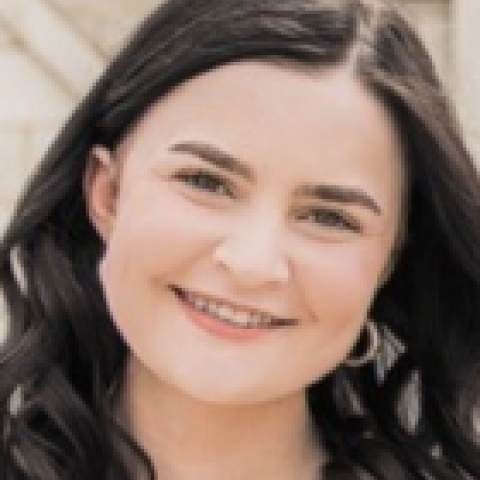 Rachel Von Ebers
Research Assistant I