Our Research
Loss of islet beta cells and/or impaired beta cell function cause type 1 or type 2 diabetes - diseases that are increasing at an alarming rate to reach epidemic levels worldwide. The overarching goal of our research is to investigate mechanisms responsible for maintaining islet cell function and to devise new strategies for enhancing beta cell fitness and robustness to prevent or treat diabetes. Our research program is interdisciplinary and encompasses islet biology, zinc biology, and chemical biology.  
Investigating mechanisms responsible for maintaining islet cell function
During the early phase of diabetes development, there is a gradual decline of beta cell function leading to impaired insulin secretion and glucose tolerance. As the disease progress, beta cells continue to decline to a point where the amount of released insulin no longer meets the metabolic demand, causing glucose to rise to a level at which diabetes can be diagnosed. Investigating how islet endocrine cells maintain their fitness and functionality to sustain appropriate hormone secretion is essential for understanding how beta cell fails in diabetes and for inventing new therapies to restore physiological glucose homeostasis.   

We tackle the problem by asking whether there are functionally distinct subpopulations of islet cells, for instance, beta cells that maintain a robust insulin secretion activity in response to secretagogue stimulation. Investigating functional heterogeneity of islet cells is expected to shine light on how endocrine cells maintain their nutrient responsiveness and hormone secretion activity, and define molecular defects in cells that fail to mount hormone release in the face of physiological demands. We investigate islet cell heterogeneity using both mouse and human samples. Using a combination of methods including activity-dependent cell tagging, cell sorting and RNA-Seq, we are studying mouse islet beta cells derived from the peptide YY lineage (Pyy+ beta cells). For human islet cells, we have identified subsets of human alpha cells with distinct glucagon contents. We are analyzing these cells in great details to characterize their functional properties and to define their contributions to the islet hormone secretion and euglycemia control.      
 Zn2+ is an important transition metal playing essential roles in diverse biological processes. Malfunction of cellular Zn2+ homeostasis is implicated in a number of human diseases including diabetes. Recent genome wide association studies have uncovered that mutations of a Zn2+ transporter, ZnT8 (Slc30a8 gene), were associated with the risk of type 2 diabetes. ZnT8 is abundantly expressed in islet cells. Remarkably, haploin sufficiency of Slc30a8 is protective against diabetes, yet the underlying mechanism remains elusive. Using genetically engineered mouse models, we are investigating how variations in ZnT8 expression may affect diabetes susceptibility and islet cell function.
In the arena of chemical biology, we focus on crafting fluorescent Zn2+ sensors for monitoring Zn2+ activity in different cellular compartments as a part of our efforts of studying Zn2+ signaling and the regulation of Zn2+homeostasis.  To explore the translational potential of our research in islet biology and diabetes, we are developing strategies to enable targeted delivery of imaging probes or therapeutic agents to specific tissues or organs including islet b-cells.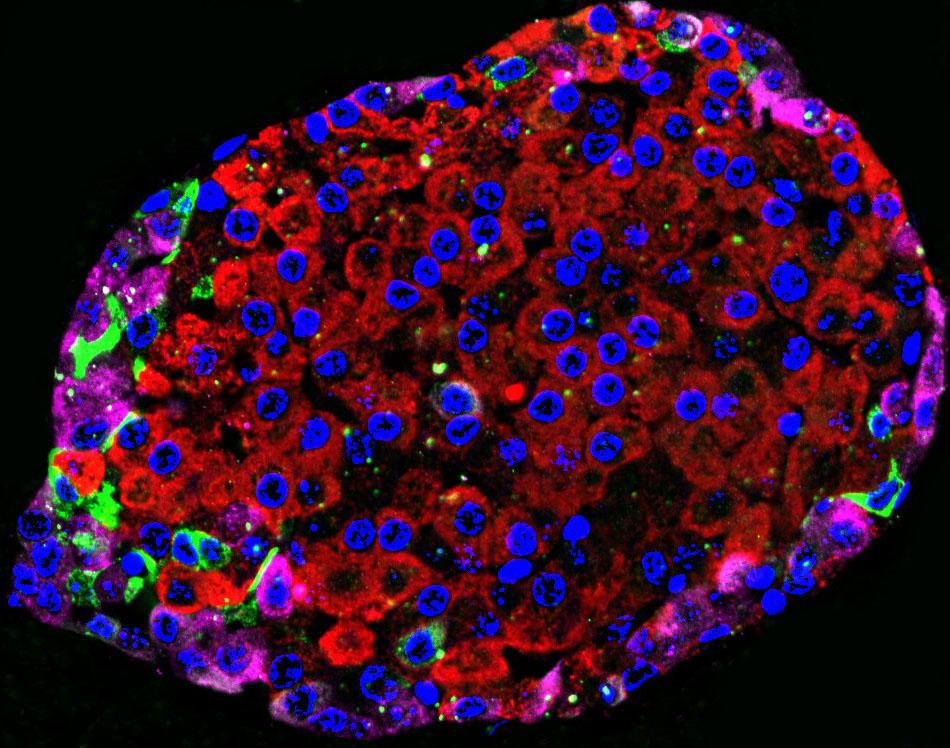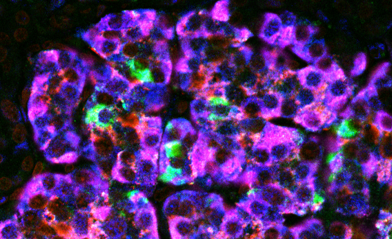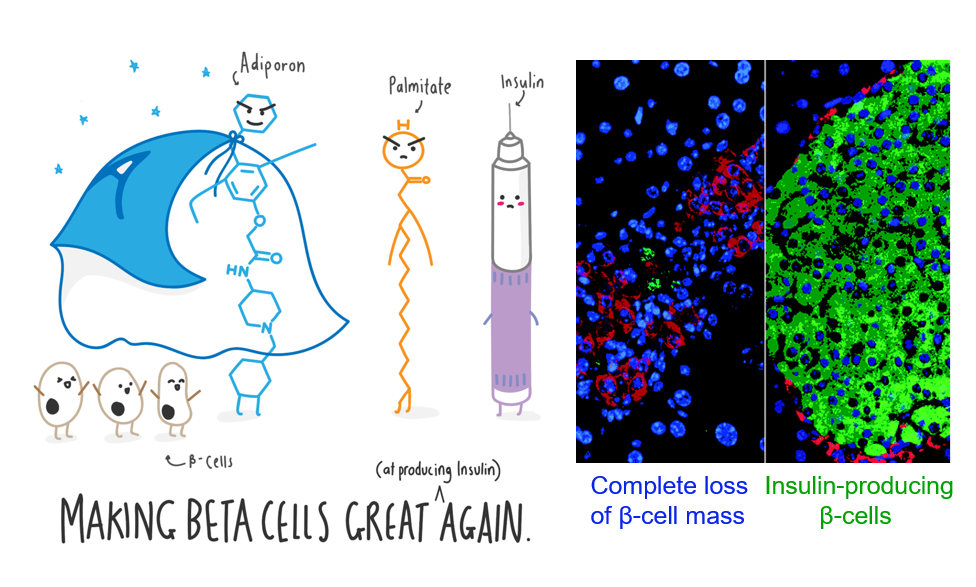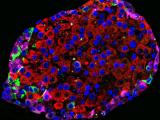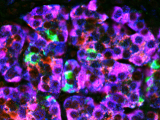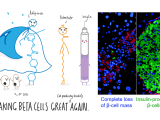 Meet the Principal Investigator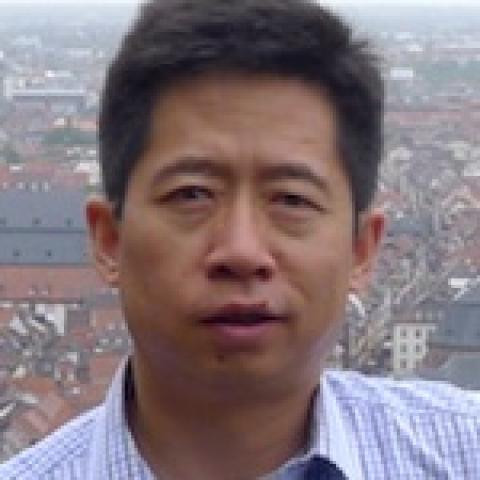 Wen-Hong Li, Ph.D.
Associate Professor
Endowed Title: Southwestern Medical Foundation Scholar in Medical Research
Department: Cell Biology | Biochemistry
Graduate Programs: Biological Chemistry, Biomedical Engineering
About Wen-hong Li Lab
The Li group is part of the Cell Biology Department at UT Southwestern, a rich learning environment with outstanding colleagues and state-of-the-art facilities. Our research centers around islet biology and diabetes. We combine diverse techniques including molecular and cellular biology, molecular engineering and chemical synthesis, as well as animal physiology to study islet cells both in vitro and in vivo.
Dr. Li runs a relatively small laboratory (< 8 people) with focused research objectives. This ensures that he can interact frequently with each person in the group. He encourages independent thinking, catalyze collaboration by matching people with complementary skills to increase productivity within the group. Our lab has weekly group meetings, during which lab members present their latest findings. At these meetings, we discuss both successes and failures and try to bring out incongruities that might lead to new discoveries.
Featured Publications
Ghazvini Zadeh, E.H., Huang, Z., Xia, J., Li, D., Davidson, H.W., and Li, W.H. (2020). ZIGIR, a Granule-Specific Zn(2+) Indicator, Reveals Human Islet alpha Cell Heterogeneity. Cell reports 32, 107904.
 
Kim J, Okamoto H, Huang Z, Anguiano G, Chen S, Liu Q, Cavino K, Xin Y, Na E, Hamid R, Lee J, Zambrowicz B, Unger R, Murphy AJ, Xu Y, Yancopoulos GD, Li WH*, Gromada J*. Amino Acid Transporter Slc38a5 Controls Glucagon Receptor Inhibition-Induced Pancreatic α Cell Hyperplasia in Mice. Cell Metabolism. 2017; 25(6):1348-1361.
 
Li WH. Probes for monitoring regulated exocytosis. Cell calcium. 2017; 64:65-71.
 
Xu Y, Chen Y, Li D, Liu Q, Xuan Z, Li WH. TargetLink, a new method for identifying the endogenous target set of a specific microRNA in intact living cells. RNA biology. 2017; 14(2):259-274.
 
Clavijo Jordan MV, Lo ST, Chen S, Preihs C, Chirayil S, Zhang S, Kapur P, Li WH, De Leon-Rodriguez LM, Lubag AJ, Rofsky NM, Sherry AD. Zinc-sensitive MRI contrast agent detects differential release of Zn(II) ions from the healthy vs. malignant mouse prostate. Proceedings of the National Academy of Sciences of the United States of America. 2016; 113(37):E5464-71.
 
Kusminski CM, Chen S, Ye R, Sun K, Wang QA, Spurgin SB, Sanders PE, Brozinick JT, Geldenhuys WJ, Li WH, Unger RH, Scherer PE. MitoNEET-Parkin Effects in Pancreatic α- and β-Cells, Cellular Survival, and Intrainsular Cross Talk. Diabetes. 2016; 65(6):1534-55.
 
Yang S, Li WH. Tracking Dynamic Gap Junctional Coupling in Live Cells by Local Photoactivation and Fluorescence Imaging. Methods in molecular biology (Clifton, N.J.). 2016; 1437:181-91.
 
Mitchell RK, Hu M, Chabosseau PL, Cane MC, Meur G, Bellomo EA, Carzaniga R, Collinson LM, Li WH, Hodson DJ, Rutter GA. Molecular Genetic Regulation of Slc30a8/ZnT8 Reveals a Positive Association With Glucose Tolerance. Molecular endocrinology (Baltimore, Md.). 2016; 30(1):77-91.
 
Li D, Huang Z, Chen S, Hu Z, Li WH. GLP-1 Receptor Mediated Targeting of a Fluorescent Zn(2+) Sensor to Beta Cell Surface for Imaging Insulin/Zn(2+) Release. Bioconjugate chemistry. 2015; 26(8):1443-50.
 
Li D, Liu L, Li WH. Genetic targeting of a small fluorescent zinc indicator to cell surface for monitoring zinc secretion. ACS chemical biology. 2015; 10(4):1054-63.
Resources for Wen-hong Li Lab
We've gathered some useful links, websites, and resources for those studying this research area. We hope you find them helpful.
Lab News
Sept, 2022
Welcome to our new lab associates
Juanzhu Yan, Kevin Shaw, and Thomas Sin have joined the Li lab as the newest lab associates!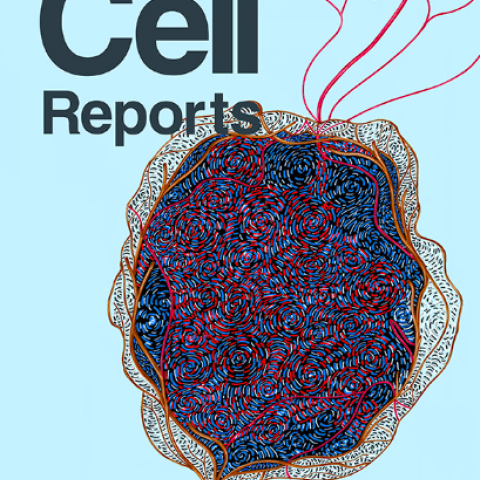 July, 2020
We made the cover of Cell Reports!
Check out our recent work in Cell Reports.
View Article
Sept, 2020
How to turn your research discovery into an eye-catching piece of cover art
Check out Ivan's interview by Maddy, a writer for Cell Mentor from Cell Press & Cell Signaling Technology, about the cover he designed for our ZIGIR paper!
View Article