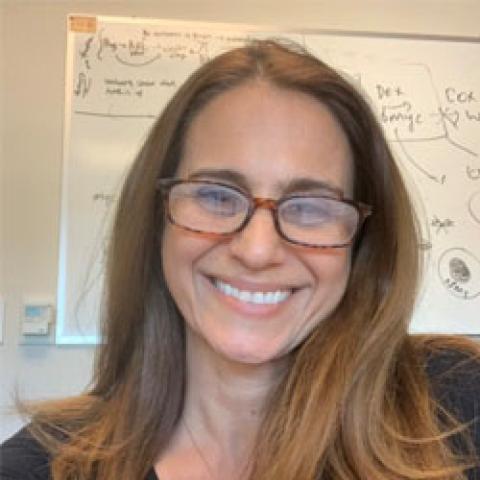 Maralice Conacci-Sorrell, Ph.D.
I believe that translational research can be very powerful when built on solid basic findings. Therefore, my lab investigates basic mechanisms of cell survival and migration, with the ultimate goal of identifying druggable pathways involved in metastatic behavior.
My goal as a mentor is to create a collaborative and energetic environment that focuses on teamwork to study fundamental biological questions. I am excited to mentor enthusiastic scientists to follow their interests, ask good questions, and identify meaningful results.
Training
My academic training encompasses multiple fields ranging from Environmental Biology to Medical Sciences. I received a B.S. in Biology and a master's degree in Morphology (human anatomy, histology, developmental biology, and cell biology) from the University of Sao Paulo in Brazil.
To pursue graduate studies in Cell Biology, I joined the lab of Dr. Avri Ben-Ze'ev in the Department of Cellular and Molecular Biology at the Weizmann Institute of Science in Israel. There, my work focused on the interplay between Wnt signaling and cell-cell adhesion. My work was among the first to address the mechanisms of tumor cell proliferation and metastasis induced by oncogenic beta-catenin. Together my studies contributed to our understanding of how cell-cell adhesion regulates the Wnt pathway, and in turn, how the Wnt pathway controls the expression of adhesion molecules.
To identify a common signature employed by different oncogenes to drive tumorigenesis, I received an EMBO fellowship and joined the lab of Dr. Robert Eisenman at the Fred Hutchinson Cancer Research Center for my postdoctoral studies. There I discovered a new pathway for regulating Myc levels and function in normal and in cancer cells. I found that Myc proteins are targeted by calcium-dependent calpain proteases, which convert Myc into a cytoplasmically active protein, that I named Myc-nick. In 2013, this work was recognized with the Darrel Goll award at the FASEB meeting "The biology of Calpains in health and disease". My subsequent research showed that Myc-nick is highly expressed in cancer cells, where it appears to drive tumor progression by promoting both survival and motility in response to metabolic stress.
My current research uses integrative approaches to understand the fundamental functions of Myc in normal and cancer cell biology. In addition, it explores the role of protein acetylation as a key coordinator of cancer cell survival and migration.