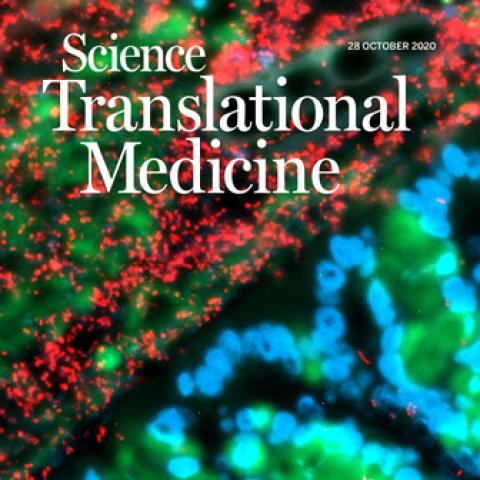 Jan, 2021
Zaki Lab published in Science Translational Medicine.
The Zaki Lab had their paper published recently in Science Translational Medicine.

We are pleased to see our manuscript entitled "Dietary simple sugar alters microbial ecology in the gut and promotes colitis in mice" was published as a featured article in Science Translational Medicine. An image from our article has also been selected as the cover of the journal.

Shahanshah Khan, Ph.D. and Sumyya Waliullah, Ph.D. are co-first authors of this paper. Co-authors Victoria Godfrey and Rajalaksmy Ramachandran, Ph.D. also made significant contributions in this study.
View Article
Oct, 2020
News story and media coverage on our publication in Science Translational Medicine
Inflammatory bowel disease (IBD) or colitis is a major public health problem, particularly in Western countries. About 3 million people in the USA are suffering from this devastating ailment. Our recent study published in Science Translational Medicine demonstrates that high-sugar diet is a major trigger for colitis. Because of the importance of our findings in public health, this study got media coverage in local and international news. A news story was released by UT Southwestern, highlighting the impact of our research in public health.
View News Coverage
Feb, 2020
Dr. Hasan Zaki awarded CPRIT grant
Dr. Zaki was awarded a $900,000 / three-year grant from the Cancer Prevention Research Initiative of Texas (CPRIT) in February 2020. Despite technological advances in diagnosis and the remarkable progress in treatment options for colorectal cancer (CRC) patients, the disease remains the second leading cause of cancer-related deaths in the U.S. Dr. Zaki will investigate the cell type specific role of NLRP12, an important regulator of intestinal inflammation and tumorigenesis, in the regulation of CRC. The precise mechanism through which NLRP12 suppresses the Wnt/b-catenin pathway is unknown. By defining Wnt/b-catenin dependent and independent roles of NLRP12 in the protection against CRC, this research could improve the survivability of latter stage CRC diagnoses.
April, 2019
New NLRP12 study published in eLIFE
New novel study published in eLife this spring implicating the role of NLRP12 in hepatocellular carcinoma. UTSW news has also highlighted the discovery which can be seen here.
View eLife Article
Oct, 2017
Recent study discovers NOD2 as a critical player in suppressing colorectal tumorigenesis
Published this summer in Cell Reports, research showed that NOD2, a gene associated with many inflammatory diseases, has a key role in suppressing colorectal tumorigenesis. This paper sheds light to a mechanistic view of NOD2-mediated regulation of intestinal inflammation and tumorigenesis.

NOD2 Suppresses Colorectal Tumorigenesis via Downregulation of the TLR Pathways
View Cell Reports Article