Radiochemistry Research Laboratory
Cell Culture and Molecular Biology Laboratory
Rodent Housing, Processing, and Procedures Facilities
Preclinical Nuclear Imaging Laboratory
Radiochemistry Research Laboratory
The Radiochemistry Laboratory is located on the 3rd floor of the Bill and Rita Clements Advanced Medical Imaging Building (NE building). The Radiochemistry Laboratory is equipped with cutting-edge equipment to provide capabilities for radiolabeling of a variety of molecules, ranging from small molecules to peptides, proteins and nanoparticles. The laboratory holds a GE TracerLab FXFN synthesis module for the automated radiolabeling of compounds, and two lead shielded hoods, for manual radiochemistry processing. A 68Ge/68Ga benchtop generator provides capabilities for the production of radiotracers labeled with 68Ga. The lab also contains a Waters HPLC and a GE FPLC for product purification and quality control. Other equipment includes: Raytest Radio-TLC, PerkinElmer phosphor imager, and an Agilent 7700X ICP-MS. A Brookhaven NanoBrook Omni particle analyzer and a DynaPro Titan microsampler from Wyatt Technology facilitate nanoparticle-based research.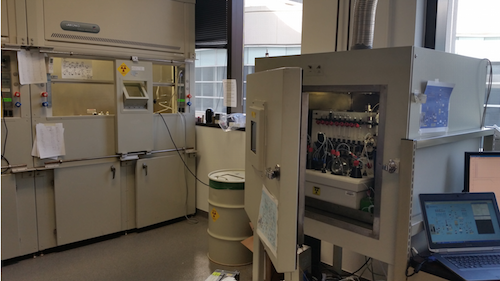 Radiochemistry Research Laboratory
Cell Culture and Molecular Biology Laboratory
Housed partly within both the Radiochemistry Research Laboratory and shared rooms in adjacent areas, our the cell-culture rooms are equipped with Nuaire Labgard biological safety hoods for working with both unlabeled and radiolabeled cells. The cell-culture facility has two nitrogen storage dewars with storage capability for 5,500 vials. The lab is equipped with a number of Thermo Scientific Forma Series II incubators, water baths, refrigerated and non-refrigerated centrifuges, microfuges, and a Leica DMi1 microscope with an MC120 Camera. A number of upright and chest -80°C freezers, -20° C freezer, and conventional frost-free refrigerators are housed in the laboratory. The lab is also equipped with thermal cyclers for both conventional and real-time PCR, ovens and shakers for bacteria growth and culture, and gel apparatus for protein and nucleic acid gels.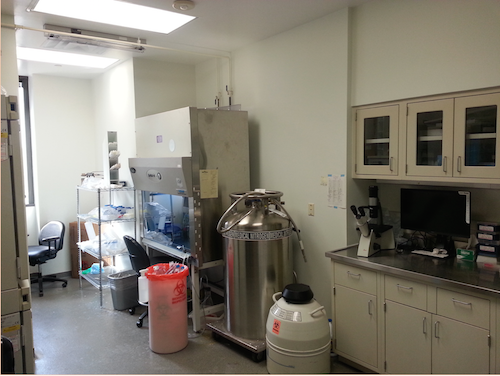 Cell Culture and Molecular Biology Laboratory
Rodent Housing, Processing, and Procedures Facilities
The Preclinical Nuclear Research Laboratory is an UT Southwestern IACUC-approved satellite housing research laboratory capable of housing 14 cages of animals (≤ 56 Mice) for up to 72 hours at a time for imaging experiments. For animal surgery and biodistribution/pharmacological studies there is dedicated isolated space in the Radiochemistry Research Laboratory. The equipment available to researchers includes: Beckman Coulter LS 6500 Multi-Purpose Scintillation Counter, PerkinElmer 2480 Wizard 3" Automatic Gamma Counter and a Leica CM 1950 Cryostat.
Located on the 3rd floor of the Bill and Rita Clements Advanced Medical Imaging Building (NE building), the preclinical nuclear imaging laboratory is equipped with a state-of-the-art Siemens Inveon PET/CT Multimodality System for laboratory animal PET and CT studies on a single integrated gantry. The imaging lab is also equipped with a BioScan NanoSPECT/CT Plus. It is a dual-modality system for imaging mice and rats but can also image small rabbits. The system is capable of imaging a range of isotopes from the low-energy 125I to111In, alone or in triple isotope acquisition mode. It is capable of high-sensitivity submillimeter imaging, dynamic SPECT and gated cardiac SPECT imaging. An optional integrated animal-handling system is available that provides a pathogen-free imaging environment. The CT components of both systems can be used to produce high-quality, high resolution images of rodent organs including trabecular bone.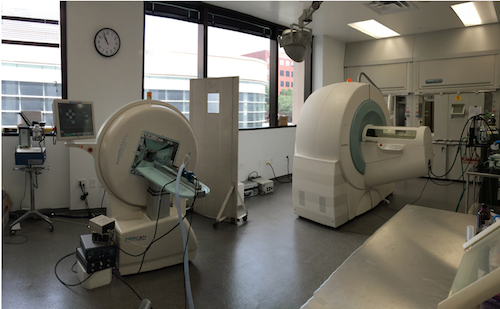 Preclinical Nuclear Imaging Laboratory
Quick Links
Contact Us
Department of Radiology
UT Southwestern Medical Center
5323 Harry Hines Blvd.
Dallas, TX 75390-8542
Nicole Paul, MA
Phone: 214-645-8541