News and Honors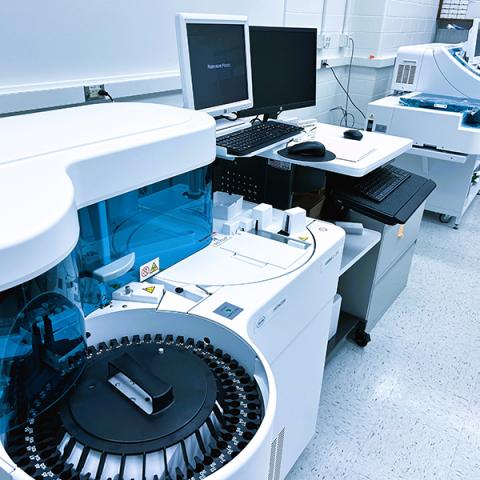 June 15, 2023
CMRU launches its own analytical wet lab and biorepository!
Designed, and renovated within 4 months, the CMRU Analytical Laboratory opened its doors in early 2023. The Multi-PI clinical research laboratory facility is equipped to provide the latest technology and clinical testing services to UTSW investigators. Analyzers onsite include:

The Roche Cobas c 311 analyzer which is an automated, software-controlled system for clinical chemistry analysis. It is designed for both quantitative and qualitative in vitro determinations using a large variety of tests for analysis

The Roche Cobas e411 analyzer, is a fully automated analyzer using a ElectroChemiLuminescence (ECL) technology for immunoassay analysis.

The VerifyNow system that provides an easy, rapid, and proven solution to assess platelet reactivity to antiplatelet medications.

In addition to processing and comprehensive testing on-site, the facility recently launched a state-of-the-art biobank that collects, catalogs, and stores human biological samples such as whole blood, plasma, and serum for research. A seamless barcoded cryo-storage datamatrix coding platform is used to enable safe sample identification. The specimens are earmarked for key trials and projects with significant future impact.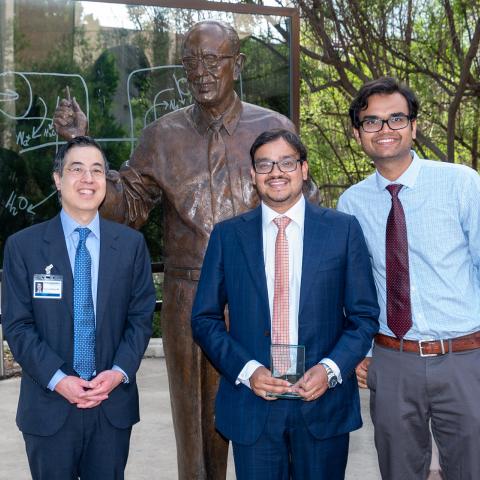 May 5, 2023
Dr. Sumitabh Singh selected as a Foster Fellow
Dr. Sumitabh Singh, a CMRU alumni, was selected as a Foster Fellow at the recently concluded Seldin Symposium. The Donald W. Seldin Research Symposium is the annual showcase research event of the Department of Internal Medicine at UT Southwestern Medical Center. Highlighting the tremendous research activity of Internal Medicine residents and fellows. The CMRU had a strong showing at the symposium with seven abstracts presented by CMRU fellows.
May 9, 2023
Racial disparities exist in use of statins to reduce heart disease risk, UTSW study shows
Black and Hispanic adults are significantly less likely to take statin drugs for preventive measures compared with white adults.
Find out more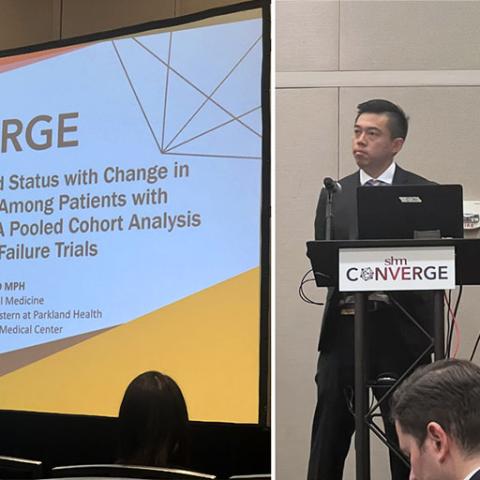 March 26, 2023
Dr. Sumarsono presents recent data at SHM Converge 2023
Dr. Sumarsono gave an oral presentation at the Society of Hospital Medicine Converge 2023, the national conference for academic hospital medicine recently held in Austin, Texas. The session was attended by academic hospital medicine leaders from around the country and was well received. His work has since been published in the Journal of Hospital Medicine: "Association of 48-h net fluid status with change in renal function and dyspnea among patients with decompensated heart failure: A pooled cohort analysis of three acute heart failure trials"
View Publication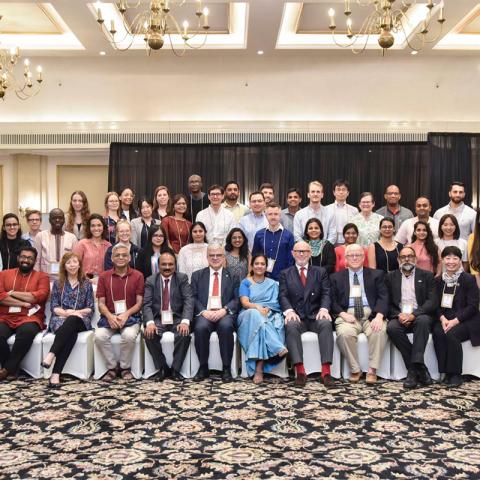 December 11-22, 2022
International Teaching Seminar on Cardiovascular Disease Epidemiology and Prevention
Lajjaben, a postdoctoral researcher in our lab, attended the 52nd Ten-Day International Teaching Seminar on Cardiovascular Disease Epidemiology and Prevention from December 11-22, 2022 in Kochi, India. This seminar was aimed to encourage epidemiological research in the field of cardiovascular diseases and up-skill physicians and researchers. The seminar included a series of lectures, group discussions and excursions to the city of Kochi. It also provided a fantastic platform to network with accomplished researchers around the world.
November 6, 2022
Dr. Matt Segar named winner for AHA Samuel A. Levine Early Career Clinical Investigator Award
Matthew Segar, MD, MS, a Texas Heart Institute Cardiology Fellow, has been selected as the winner of the Samuel A. Levine Early Career Clinical Investigator Award competition by the American Heart Association's Council on Clinical Cardiology (CLCD) for his presentation "Development and Validation of a Phenomapping Tool to Identify Patients With Diuretic Resistance in Acute Decompensated Heart Failure: A Multi-Cohort Analysis."

The Samuel A. Levine Early Career Clinical Investigator Award recognizes and rewards innovative clinical research by early career investigators and trainees and promotes careers in clinical cardiovascular investigation. The award is named for Samuel Albert Levine, MD, an American cardiologist. Dr. Levine was a pioneer in the treatment of coronary thrombosis.
Find out more
July 14, 2022
UT Southwestern team wins grand prize in American Heart Association Data Challenge
A team led by UT Southwestern Medical Center cardiologist Ambarish Pandey, M.D., was awarded the grand prize in the American Heart Association Heart Failure Data Challenge hosted by the American Heart Association and the Association of Black Cardiologists. The six-month data challenge asked researchers to test the relationships between heart failure and health disparities, social determinants of health, and structural determinants of health.
Find out more
June 3, 2021
Pandey wins NHLBI Big Data Analysis Challenge for heart failure research
Dr. Ambarish Pandey, Assistant Professor of Internal Medicine and a Texas Health Resources Clinical Scholar, is using big data to improve diuretic resistance among patients with acute heart failure.
Find out more